Friday's Letters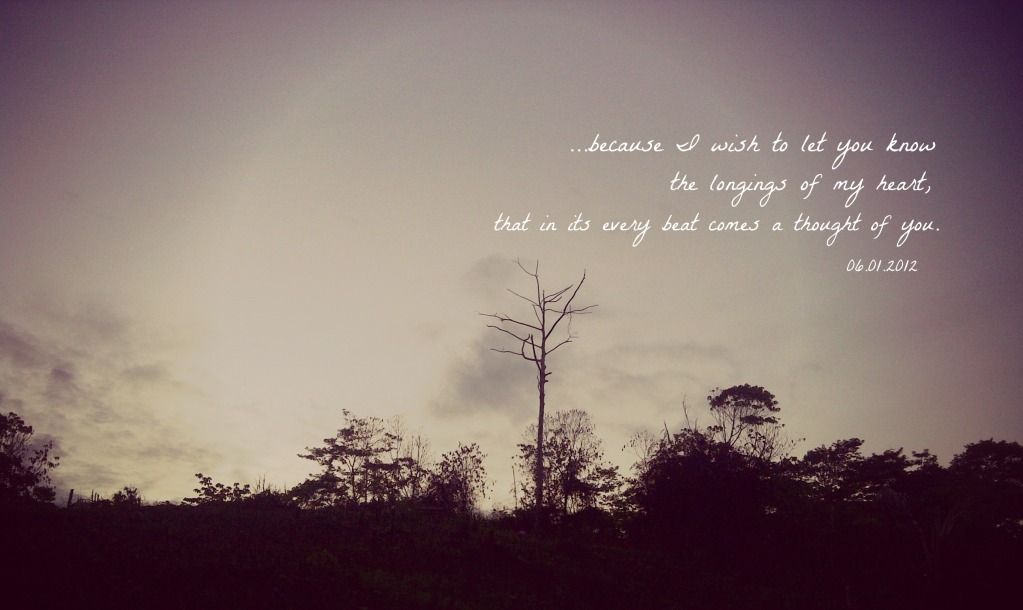 Dear Papay,
I hope your health condition is better now. I pray that you regain your strength. Even if at times you don't recognize me, it is enough that I see you smiling, eating, listening and playing with your other grand kids. I bought you
hopiang ube
last week when I was home but you were still at the hospital so I gave them to mommy and lola remy instead. They liked it. I'll give you more of those next time, so get well very soon. I love you.
Dear Mamang,
Thank you for taking time off work in order to send me to the bus terminal yesterday morning. I missed you and I can't wait to have you here in August. We'll surely have a grand time at the spa. ♥
Dear Love,
Please don't be sick. Always take care of yourself. By the way, I liked it when we prayed at the same time despite not being together physically. It's something I'd like to do more often. I'm missing you more and more each day. Truth is, I'm missing you even at times when you're literally just a heart beat away.
Dear June
,
Welcome! I know you'd bring in many changes - summer is over and we've been experiencing scattered rains already; classes are gonna start soon and it's my first time to do academic reading again after three years; there are new people at work and and a few leaving. Most of all, I am to face a bittersweet episode in my own personal love tale. These and more I know I can handle and some I'm not sure of, so please, be good to me. I am looking forward to an eventful month that leans more on the brighter side.
Dear God
,
My endless gratitude for Your blessings - seen and unseen. Thank You for giving me a great family - simple and loving and always full of joy even in the midst of trials. They always push me to do better and they never cease to let me know and feel that I am loved (even my little achievements are always appreciated). Thank You also for giving me quality time with the ones I love. Lord, I know You know how much faith I have in You. And I pray for the grace to always be reminded of this faith - that all things work for the good of those who believe in Your great love and mercy.