Friday's Letters
Dear Self,
I am so happy for you! After two years, you finally got that much awaited promotion. See? hardwork pays off, and prayers are answered. But things are just starting to get better. Stay diligent and responsible and believe that good actions do not go unnoticed. Yay for you and for all the other great things that are about to come.
Dear Arms,
Why are you so huge? That's it.
Dear Girlfriends,
Why are you leaving me? I'm gonna miss you both terribly. I wish we can all just stay here and keep creating and sharing memories but I know that you are both free to explore and find happiness and learning elsewhere. I just hope that we don't lose touch and stay friends despite the distance. Well, in the meantime, let's keep enjoying each others' company and wish each other well.

Dear Mama,
I am so glad to know that the situation out there is way better than last week. I want you to know that you are always in my prayers and everything I have accomplished is for you. I love you dearly.
Dear Blogger Friends,
Thank you so much for all your kind and sweet words. They mean the world to me. And I am so thankful to have found my space in this blogging world and realize that you all good people are here too. I'm loving this journey with all of you my online friends. Rest assured that I'm sending out well wishes for all of you wherever you may be.

Dear Love,
Sharing my happiness with you definitely doubles the joy. I love it that we get to include each other in our day to day life. Thank you for trusting me with all of your innermost thoughts and feelings. I know that you are going through a difficult time right now but always be assured that I am just here - always willing to listen, to give you advice (when needed) and to keep you smiling and laughing in my own little ways. Be strong and always keep the faith.
Dear God,
Thank you! Thank You! Thank You! My heart swells with joy for all Your blessings - big and small, seen and unseen. For not letting go of me when I was so down and for letting me know that You hear us - our prayers, our wishes, even our faintest sigh. For You oh God, are All Knowing and Almighty and You give us what we need in Your own perfect time.
Always,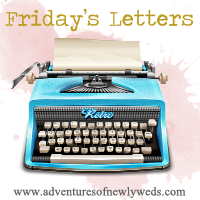 Hello Dear Friends!

Before you end this Friday's letters I have something to share with you. This could be a new addition to my usual letters. I am always smitten by sweet notes and rarely do I see men who take the courage to pen their feelings and thoughts. Here's one written by a friend and I can't help but share this with you too. Who is Juliet? It could be you or me or any girl out there who is loved. Who is Romeo? It could be anyone too. :)
Dear Juliet,
My morning commenced with a great worry because you were not responding to my text messages and you were not answering my calls. I promised to wake you up at seven in order for you not to be late. As I was calling you, I felt so restless and disturbed that I couldn't concentrate on my review. I was anxious because last night you were complaining that you were physically unwell. More so, I was worried because of paranoia. Suddenly, I thought of skipping class and running under the heavy rain to check if you were fine. Maybe you have felt my anxiety so you texted me and informed me that you were fine. But, my immediate response was not that favorable. I called you with an angry voice. With that, I would like to apologize. I hope you understand that I care so much for you. I am struggling to tone down my feelings – for I, a lover, to settle as your best friend. And to justify my actions – know that even a mere friend would care as much.


I would like to tell you that I am painfully struggling to control this feeling… I struggle to become less selfish and turn this love into the platonic kind. I want you to be free looking for the one who can fight for you and love you without fear. Although, oftentimes I imagine myself to be that person.
The past days have been too hard for me. I am always thinking of you and I always want to see myself to be at your side every moment. I know that this love will haunt me for the rest of my life - my love for you has been engraved in my heart. And this heart will never have an empty space again.
Romeo