Thursday Tune (Link-Up)
Hello, Friends! Today I am starting a fun link-up for everyone. It's called Thursday Tune. I guess this happens to everyone - there is that one great song that dominates our day, our week, our month. And we just keep hitting the play button after the song is over. I believe that what we love to listen to says something about us, about our taste and about the current state of our emotions. You see, songs speak so much that mere words cannot even encapsulate.
And so I thought this link-up is great in order to get to know someone, meet new friends and get to listen to different songs in a day. I've read quite a few blogs that feature a song, an artist and I get hooked and start liking the song and artist too. It makes a great new discovery!
This week has been a week of listening to Sara Bareilles' songs. I can't get enough! And today's song is Uncharted.

I love the beat. I love the words. And yes, it's true, I am currently in an uncharted territory and there are a lot of things and feelings that are new to me. But hey, experiences are the best teachers. And so I'm gonna make my way around discovering new things and getting used to new emotions. I know that a lot of exciting things are in store for me.

So, what is your Thursday Tune? Let me know by linking-up. If you do, please link back to this blog and you may grab the button below. I honestly want to know what's on your playlist. I can't wait to listen to familiar and maybe new songs in the next few days.


Please help me spread the word. Happy Thursday, Friends!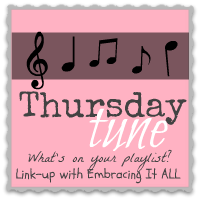 Follow my blog with Bloglovin