Thursday Tune //Take Three//
There is that one great song or tune that dominates our day, our week, our month. We can't help but keep hitting the play button after it's over. I believe that what we love to listen to says something about us, about our taste and about the current state of our emotions. You see, songs speak so much that mere words cannot even encapsulate.
Join the fun! Link your favorite tune of the week here and allow it to say something about you, get to know bloggers you follow, meet new online friends and get to listen to awesome songs recommended by bloggers like you.
____________________________________________________________________________
Today's Tune is The Heart of Worship by Matt Redman
This song honestly brought me to tears. I've been restless and distracted the past few days. Focusing on one thing was too difficult for me. I wanted to be so in control of everything and I had my eyes fixed on mundane things that I started missing out on the essential things in life.

I am reminded that I can find refuge in the arms of the One who loves me most - Jesus. He who loves without conditions, He who waits, He who blesses, He who understands, He who comes to my rescue when I fall into sin. I am reminded that in His embrace, nothing is lacking, nothing is insufficient - there is only fullness of the heart.

How about you? What's on your playlist? Share them here. I honestly want to listen to what you guys have on your music players. Help me spread the word, grab the button below! :)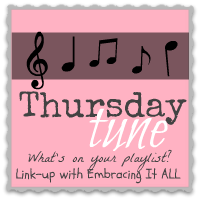 Last week's Tunes:
What Makes You Beautiful by The Piano Guys
// You and Me Both by The Classic Crime @
Over Thinking