travel light
women need to pack so many things for a trip - not just clothes but an entire set of daily essentials that we can't live without. in my case, i usually stock up on big sized lotion, shampoo, conditioner, etc because its the practical thing to do. but it's such a pain to be carrying them around especially if you go on trips that we require a lighter baggage. if i could at least fit my toiletries in a small pouch, then i'm good to go. so, here's how i did it for my three-day out of town
trip over the weekend
.
USE SMALL CONTAINERS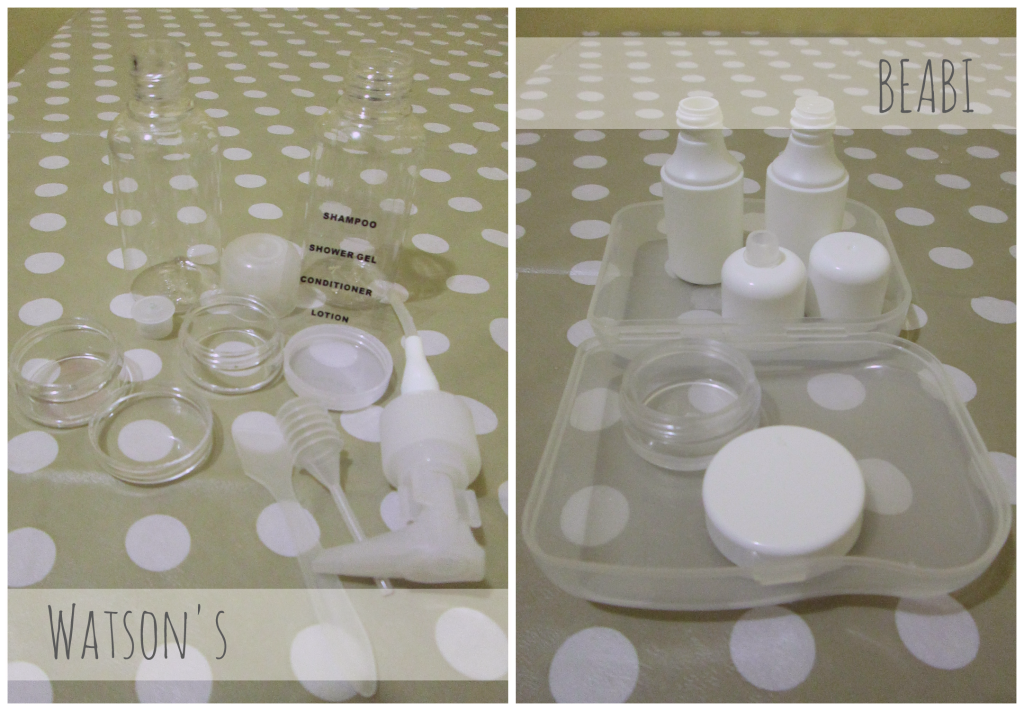 i've had two sets of small containers for creams, lotions, shampoo etc. for a while now. the first one is a travel set from watson's. it comes with a 75 ml lotion bottle, a 75ml pump bottle with reusable lock, an applicator and a dropper, two pieces of 10g cream jar plus some cute labels. the set costs around PHP120 or USD3.
the second set is from
beabi
. the set includes a case where you can fit in 2 10g cream jars and 2 20ml (if im not mistaken) opaque lotion bottle. all 5 pieces cost around PHP150 or USD3.75.
below are just some of the things i needed to bring with me. from big containers to tiny ones. :)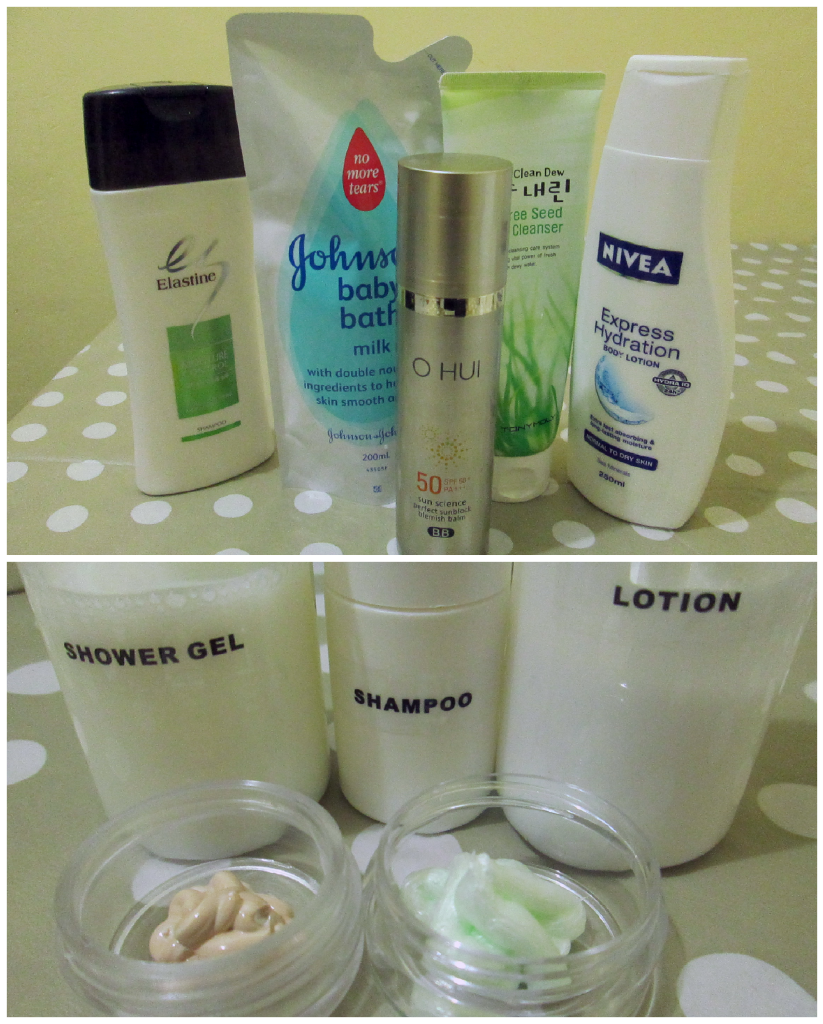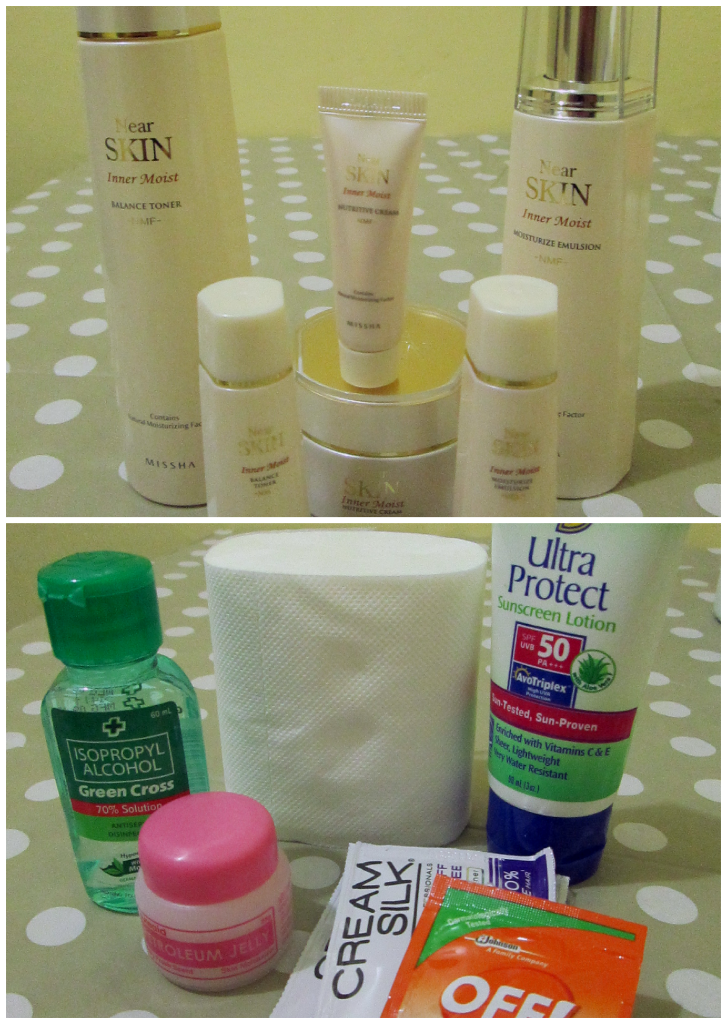 another thing we can do is to purchase toiletries in smaller (travel-friendly) containers. i recently received a set of
missha near skin
toner, emulsion and day/night cream. i was so glad when i opened the box because each one comes in smaller packages too, perfect for traveling.that's an entire day and night regimen that can easily fit in a small pouch. plus, you can always opt to buy stuff in sachets like conditioner and insect repellant, a more compact tissue (without the cardboard tube in the middle) and the mini versions of the other stuff you need. it may cost you extra but you can always use them again on your next trip or just refill them when you have used up everything.
with that, i was able to fit everything that i needed in a small pouch just like what i had planned.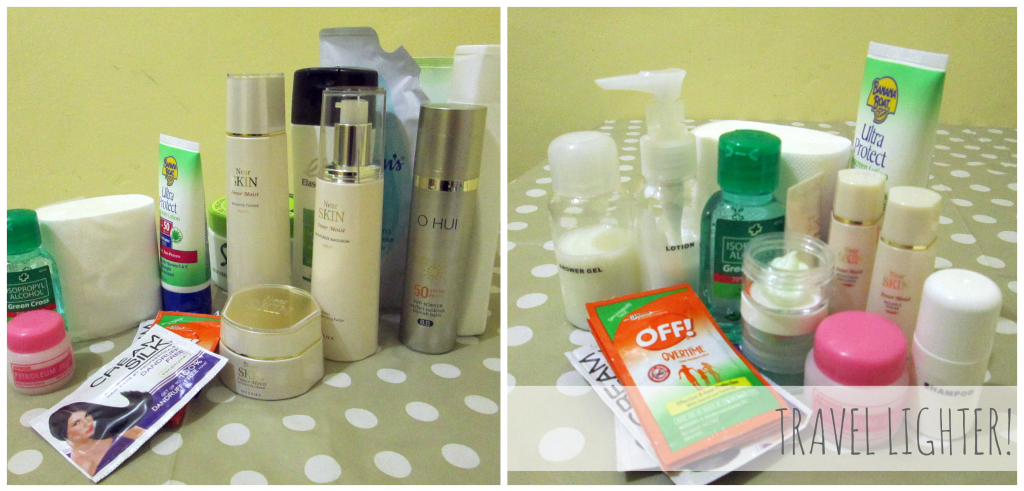 how about you? what do you do to travel light?