weekend walk + some sweet treats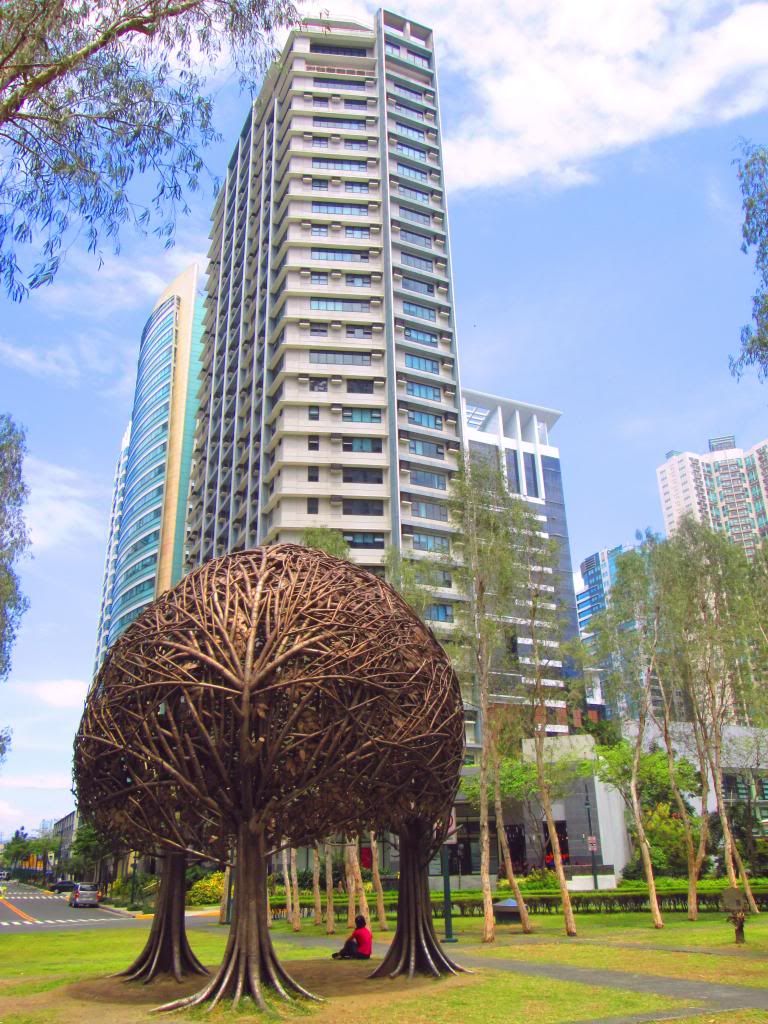 i love how this photo turned out - it looks real and unreal at the same time. well for one, it's highly edited, and the clustered trees are obviously artificial, but the feeling that emanates from it is all too real. it was a bright saturday morning and i was literally having a walk in the park, something i haven't done in a long time. my usual saturday morning involves being locked up in my cramped apartment and to be out like this is such a breath of fresh air.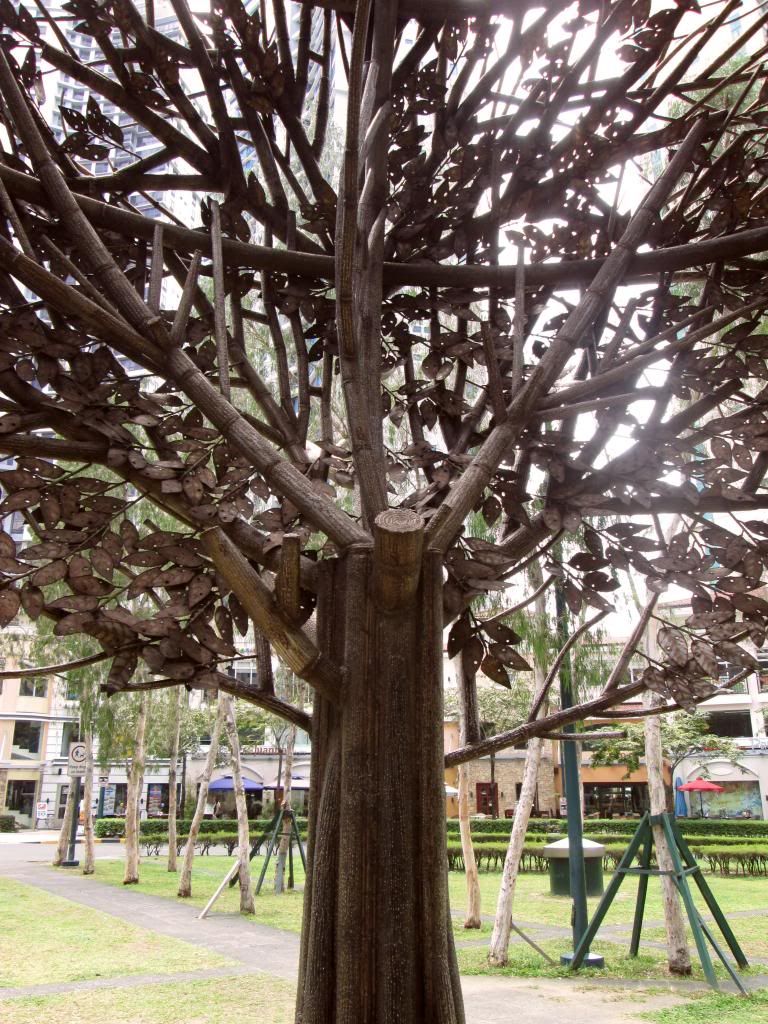 my friend and i walked around burgos circle after we had lunch at Toastbox (separate post for this). ive always been around this area since my students, Y and D, reside in 31st Street. but for some reasons, i haven't been able to dine in one of the many restaurants here or have a leisurely walk. so, it was about time - i was craving for a nice dessert plus, this bronze tree intrigued me!
a friend of mine once told me that there is a nice gelato place in burgos circle. i think i remember him saying it's where i can taste the "best" gelato in manila when i told him i haven't tasted one. he must be talking about
bar dolci.
well, it fits his description - it's found in front of
1521
and they have exciting flavors like ferrero (is it the only store with the said flavor? i'm not sure).
anyway, this selection greeted us! i was so excited i didn't know what to get for myself! looking at it now, the bestsellers might have been french vanilla, extra dark chocolate, black forest, salted caramel and others i wasn't able to take a picture of. my friend and i shared a medium cup of strawberry cheesecake for Php180 (USD4.5).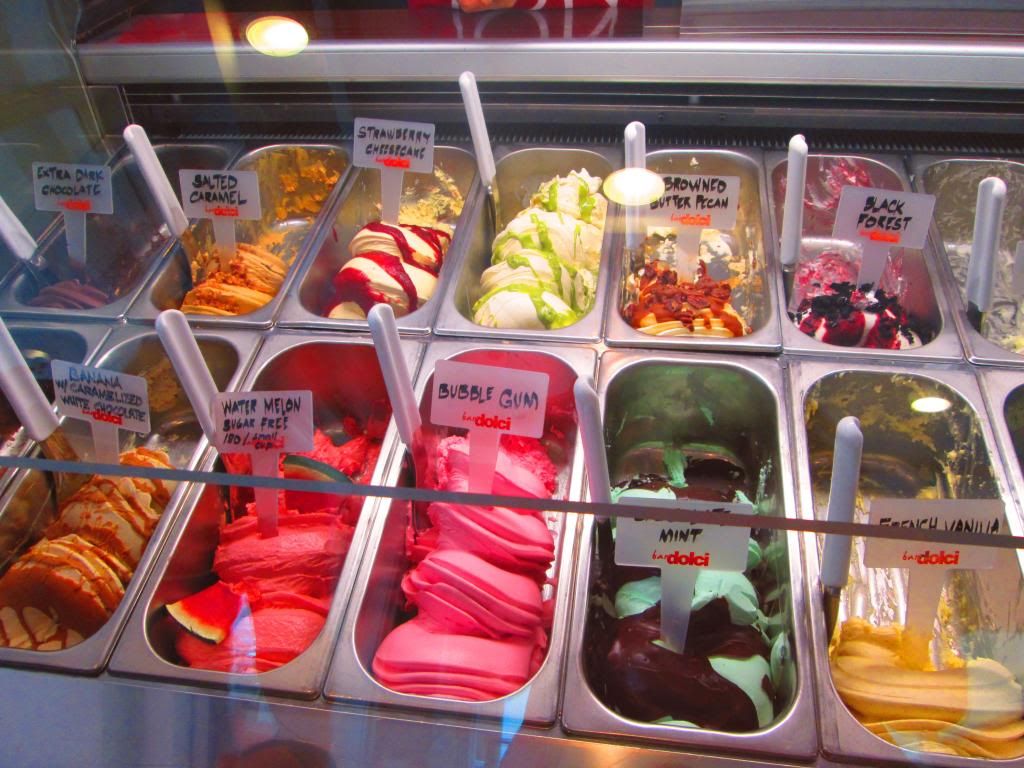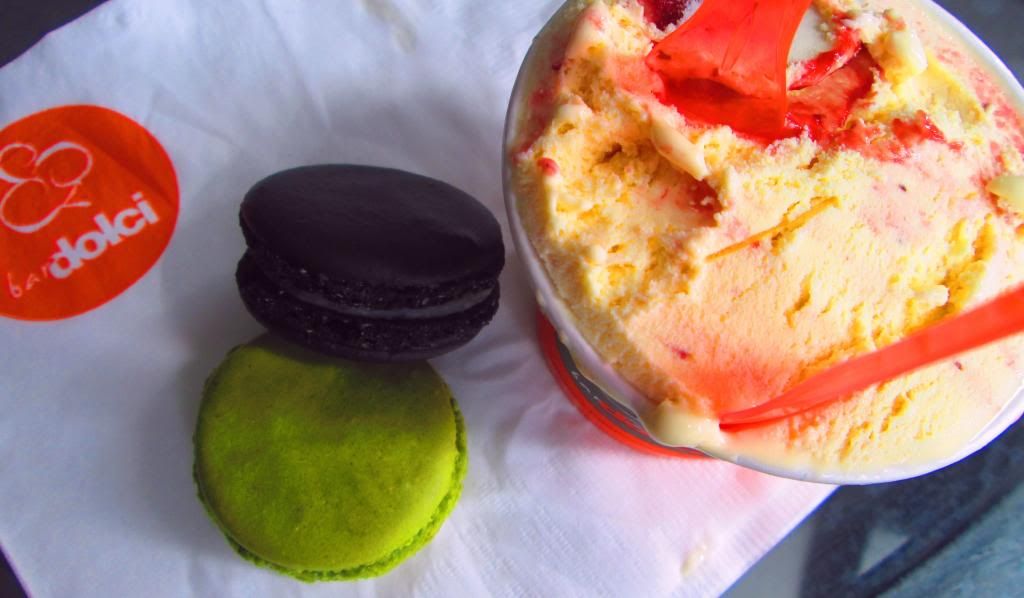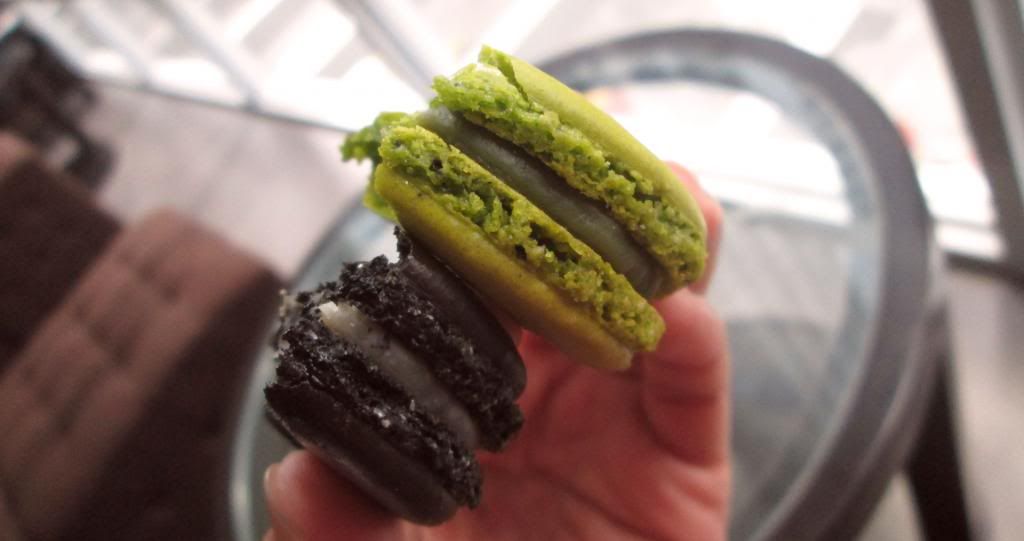 i thought the cup was too small for its price but with the gelato's intense flavor and richness it was worth it. i don't have a point of comparison but it is really yummy and i'd surely be going back to this place to try each flavor. we also got a couple of macarons for PHP100 (USD1 each). i picked pistachio (obviously the green one) and the other one is black sesame. pricey but they are really really delicious.
our walk did not end at burgos circle. our next stop was bonifacio high street. this part of the bonifacio global city is filled with different specialty shops, restaurants and a good amount of greenery. it can be crowded on weekends but you always get to feel that there is enough room for everyone shopping, dating, jogging, or walking their dogs. i love this place because it's so orderly. and on days like this time of the year, bright and sunny!
by the time we reach bonifacio high street, my feet were already sore. these rocking chairs are for the elderly who would like to rest for a while.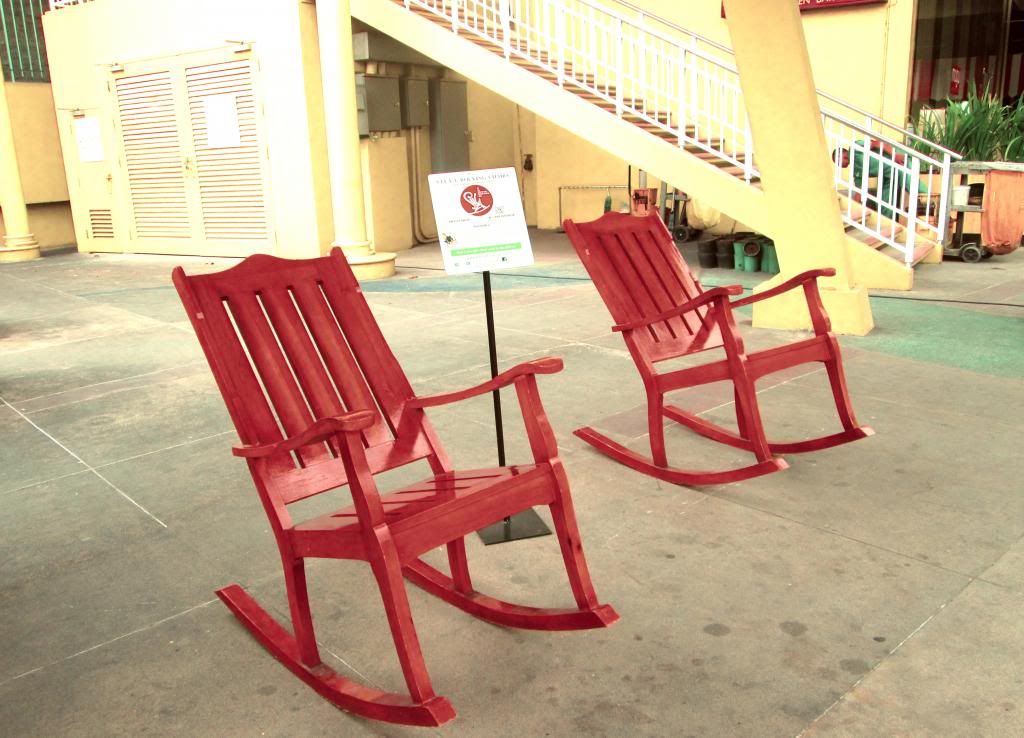 there were a lot of dogs that day - pet owners were dressed like their pets. it was a lot of fun! and i saw a couple of huge Siberian huskies! unfortunately, i wasn't able to take pictures of them.
we kept walking and saw these - love locks! they remind me of Korea. those of you who are avid fans of korean dramas might have seen those scenes where couples place love locks in namsan tower. they go in the area and leave a padlock where they may write a message or their names and throw the key/s away symbolizing that their love is locked forever! the romantic in me thinks this is a cool spot and it would be a lot nicer if there are more padlocks than empty spaces. ♥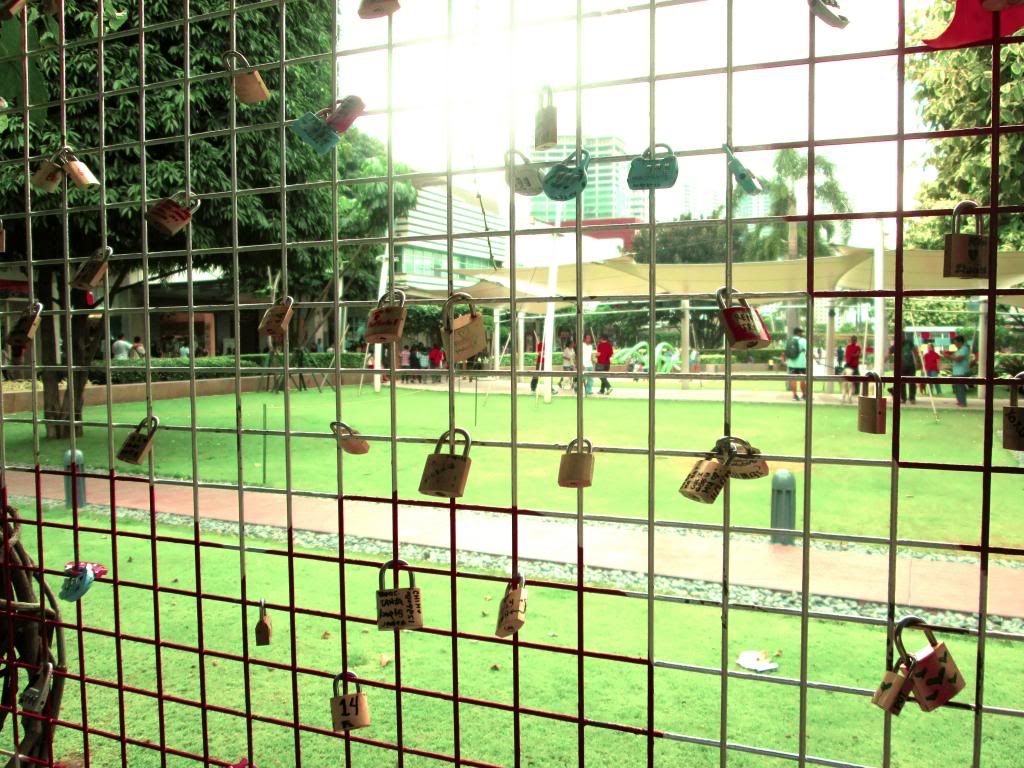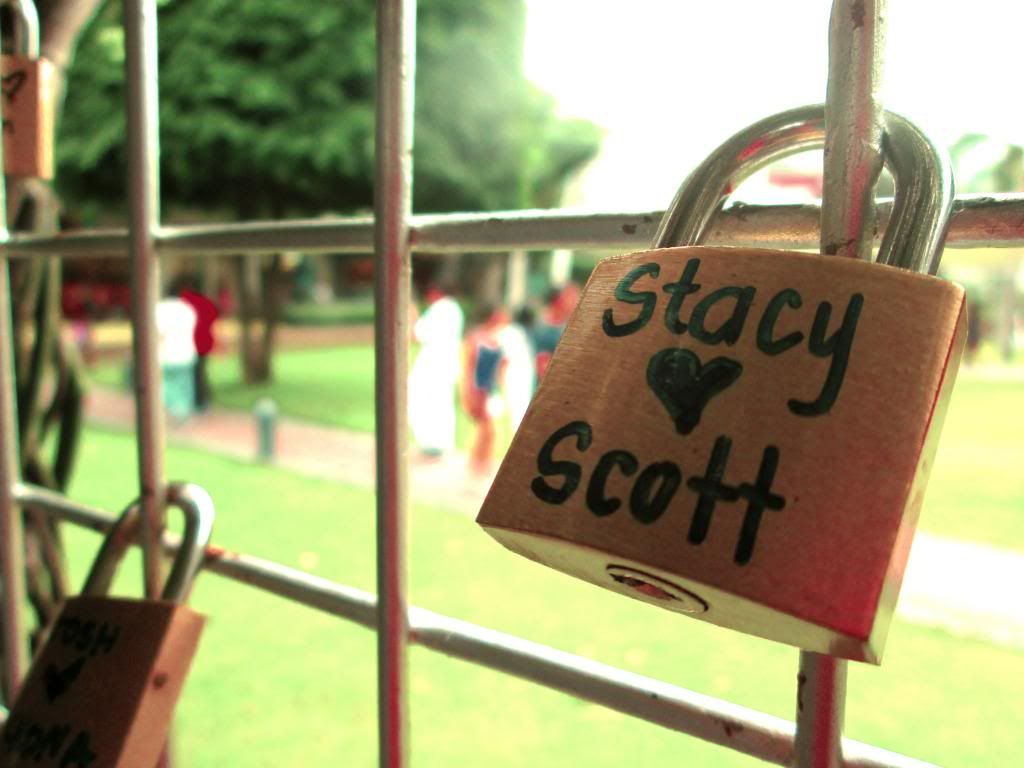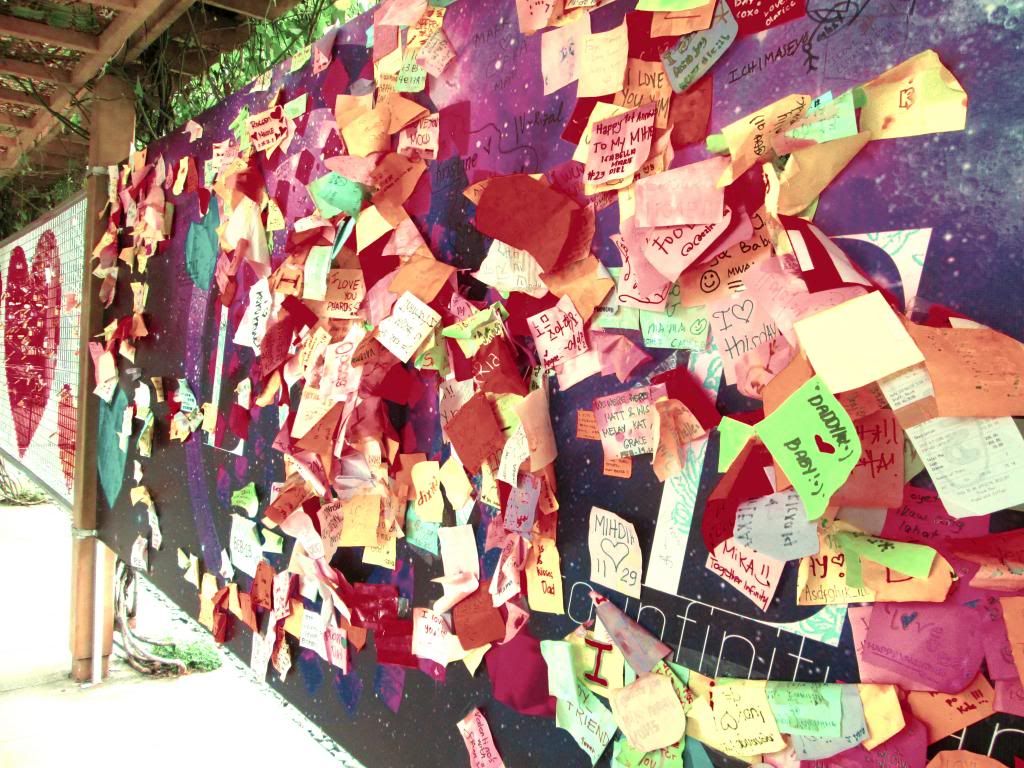 BGC is a lovely place not only for shopping or dining. it's a friendly place for joggers too, and "walkers" like me or everyone who wants to unwind but want to avoid crowded malls. if you are near the area, go and visit. have a cup of gelato or a piece of macaron. take with you your family and friends, or your sweetheart and just feel the sun on your skin, marvel at the beauty that surrounds you.
breathe in. breathe out. walk.