CampusBookRentals: Satisfying Your Textbook Needs
After all the festivities, a lot of us are back to regular programming - back to work, back to school, back to wherever. Although these may not be exciting for most people, the prospect of a new year is something always refreshing. Touching the subject of "new year", one of my goals this 2014 is to save up. I've been employed for almost four years (almost eight, if you'd count part-time employment in college) but there are times when I'd still find my bank account empty. Looking at the number of years I've been working, people would expect me to at least have some decent amount saved up. But, it's the quite the opposite. College was a demanding phase in my life, financially speaking. Education is pretty expensive. The cost of textbooks, for one, is steep. So, it's either you burn your pockets or lag behind (or be the most resourceful student that you can be). Well, to all college students out there, I have great news for you.
CampusBookRentals
will allow you to save 40 to 90% off of your textbook expenses. Want to know how? Watch the video below and be astounded at the convenience of renting the books that you need at affordable rates.
Here are just some of the perks you can get when you avail of
CampusBookRentals
' services
-free shipping both ways
-can highlight in the textbooks
-flexible renting periods
-full refund when you return a book within 30 days
- and so much more!
I checked out
CampusBookRentals
' site and searched for a book that my sister needs for her Psychology class. For a book that costs $187, I'd be able to save $158.85! Not bad for something that my sister will be able to use until May 15. It's such a great deal!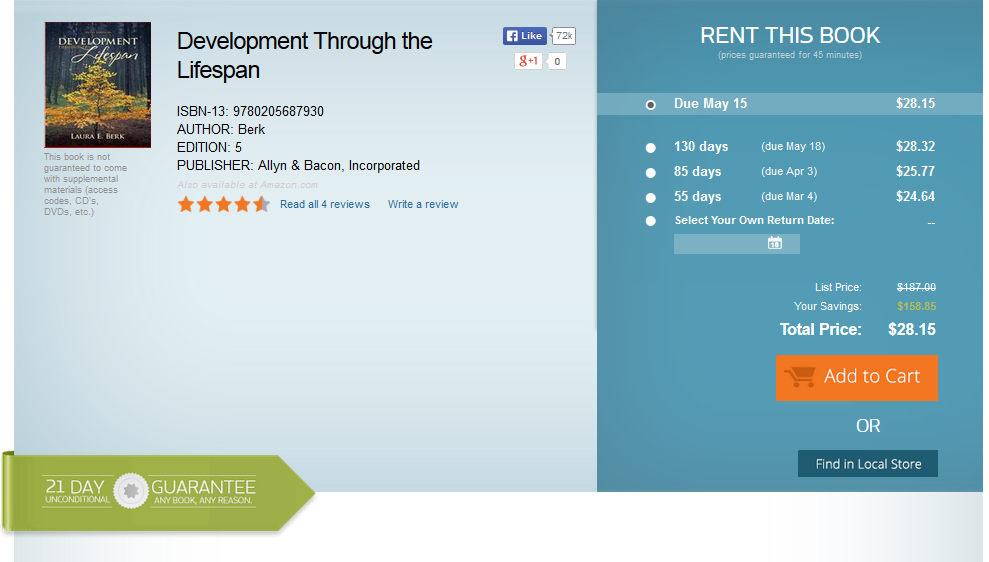 Here's another good news, with every book you rent,
CampusBookRentals
donates to
Operation Smile
.
Operation Smile
is an international children's medical charity that gather medical professionals to perform safe and effective reconstructive surgery for children with facial deformities like cleft lip and cleft palate. Founded in 1982,
Operation Smile
has provided over 200,000 free surgeries for children and young adults all around the globe. This year, they have scheduled missions in various countries including Jordan, Paraguay, China, Philippines and Ethiopia. With the help of generous donors and volunteers, it is sure that Operation Smile will change more lives and improve more smiles.
What are you waiting for? It's time to start saving up. And just in case you've already bought loads of textbooks, or have already graduated and you think this would be of no use to you, think again. CampusBookRentals has a new program called
RentBack
. And here is an illustration of how it works:
See? With CampusBookRentals, there is nothing to lose and so much to gain. Apart from course textbooks, you can also search for titles for leisure reading and work-related research use. Come to think of it, with these awesome offers, I am actually fulfilling three of my new year's resolution - save, learn and support a cause. How about you? Want to take part of something good this year? Head over
here
!
*This is a sponsored post.
keep in touch!