Korea Chronicles | Homecoming Day at Soongsil University
/ Day 1 /
They say, when you go to a foreign country, it is much fruitful to immerse oneself in the locals' way of life, and see first-hand how they do certain things differently. In my stay in Korea, I was immensely fortunate to not only see famous tourist attractions and landmarks but also to get to stay in Korean homes, visit a Korean friend's workplace, and witness a small but meaningful annual university gathering - AbandonESS Orchestra's Homecoming Day at Soongsil University.
After having a great time in
Samcheongdong
, Jane and I walked back to Anguk Station. We got to Soongsil 30 minutes past 3. We went straight to the University's Student Union Centre and to the Orchestra's designated room. The student members were busy rehearsing and decorating the room when we arrived. Jane introduced me to everyone as her friend she met in the Philippines. Although not all of them were comfortable in speaking to me in English, everyone was all smiles - warm and friendly. One of them even told me he was able to do volunteer work in Dumaguete last year and he definitely had a great time.
Jane had to practice with the students playing that day so she requested some friends to sit with me and keep me entertained. Slowly, the room was filled with senior members and I could feel how ecstatic they were to be there and see familiar as well as new faces. I've heard that seniority is a big deal in schools in Korea and it was evident that afternoon. It was clear how much the younger members admire and respect the older members, seeing the way they communicate and express adoration. The senior members were very fond of the younger ones, too - encouraging them and cheering for them as they perform.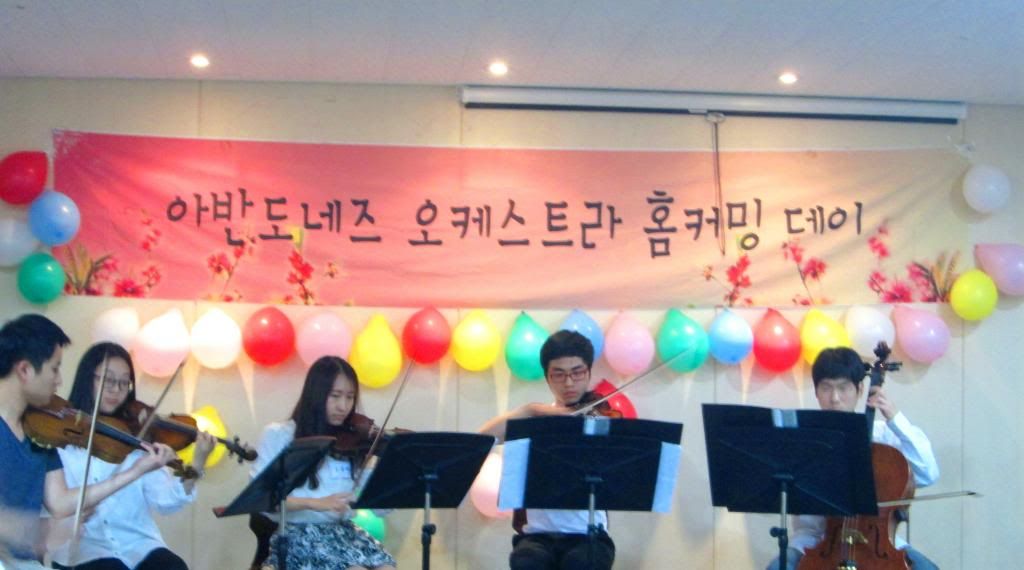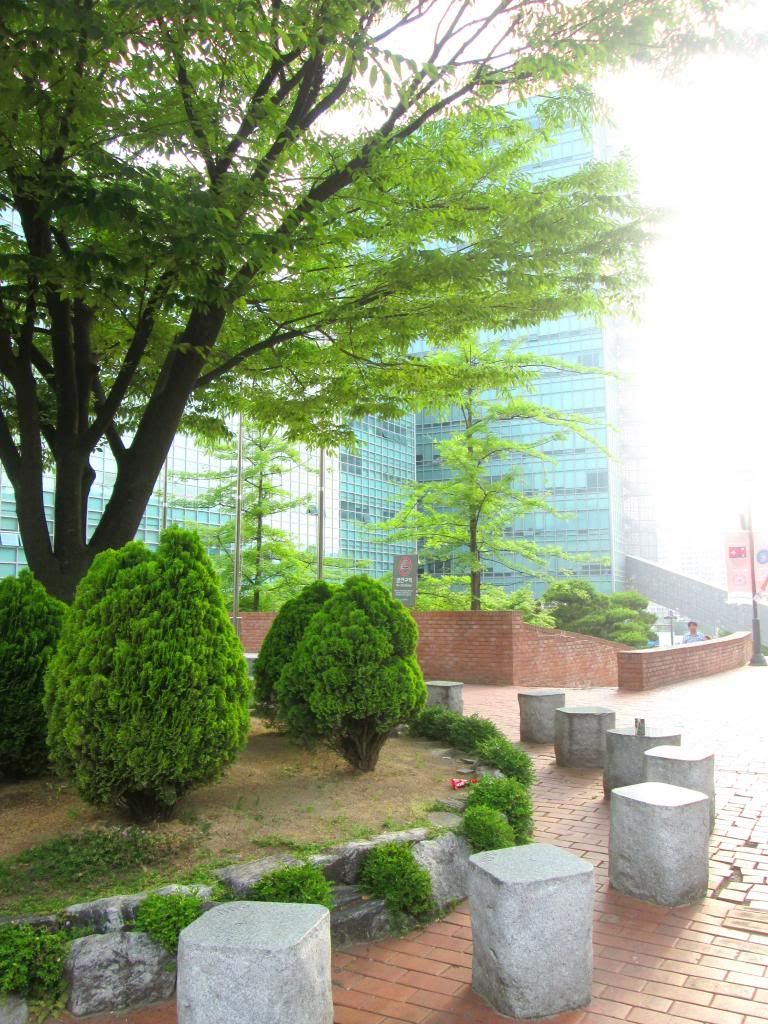 Below is a video of one of the pieces they played that afternoon.
After the short program, everyone gathered 'round for a short meeting, which was more like catching up. I was a total stranger but they didn't mind having me around. Seated next to me was Lacy, Jane's senior (I assumed), who made me feel so much more comfortable. She talked to me about being one of the founding members of AbandonESS and how she has never imagined it to be as big as it currently is. She also told me that her father used to work/live in the Philippines and that he'd frequently tell her that he would love to retire here. "I really don't know what it is about the Philippines that my father likes so much", she said. I laughed, for she was genuinely curious.
Everyone had a minute or so to say something about himself/herself, and I too, had to introduce myself. I told them that it was my first time in Korea, in fact, I just arrived that day. I told them how i was so amazed at their musical gifts for I don't play even a single musical instrument although I terribly wanted to learn.

The catching up went on over boxes of really yummy chicken and pizza.

I had to meet another friend at 6pm, so much to my regret, I had to leave and say goodbye to Jane. I had the most awesome time with her and I was quite sad that our time together was over.

We met in UP almost 9 years ago and we exchanged emails since then. Although we lost contact for years, we were able to reconnect through Facebook. And I couldn't be any happier to meet my first Korean friend on my first trip to this beautiful country. I am truly blessed, for even in a land so foreign to me, it felt like home.


We hugged one last time and I was off to another adventure.
Day 1 part 1 and 2
here
and
here
.
**
To get to Soongsil University from Anguk Station
:
Anguk Station [Line 3] ----- (get off) Express Bus Terminal Station --- transfer to Line 7 ----- (get pff) Soongsil University [Line 7] --- 5-minute walk.
connect with me here