Korea Chronicles | Myeongdong Catholic Cathedral
/ Day 3 /
On my third day in Korea, I thought of walking around Hongdae (Hongik University) in the morning before I go to my former students' house in Banpo. But then, I had no idea what else to see in Hongik. Since I woke up so early from an overnight stay at a jjimjilbang, I thought why not go to Myeongdong Cathedral instead. I looked at my Seoul Metro map and it seemed quite near. So, I took a train right after breakfast.
I really believe that Seoul Metro is perfectly designed for tourists. I mean, all the stations are complete with signs and if you just pay attention, you can never go wrong (or get lost). Plus, every station has a bulletin board that has a list of tourist attractions nearby and the appropriate exit gate to conveniently get to those places - that was how I got to go to Myeongdong Cathedral. When I got out of the station, there was an even bigger map at the corner. I walked for 15 minutes, I guess, and made a few wrong turns before I spotted the church's bell tower. And then, it started raining! It was a gloomy morning to begin with, and quite cold.
I found the church, finally (after purchasing an umbrella from a convenience store). Myeongdong Cathedral was beautiful - totally grand amidst the city mist, and even though there was an on-going construction around it.
Myeongdong
is the Cathedral Church for the Archdiocese of Seoul and has become a symbol of the presence of the Catholic Church in Korea
[
source
]. It is the only place in Seoul that feels so familiar and comforting - not at all foreign.
I was sad to have missed the Sunday Mass, but I was grateful to be there with a few other foreign and local Catholics on that cool Monday morning.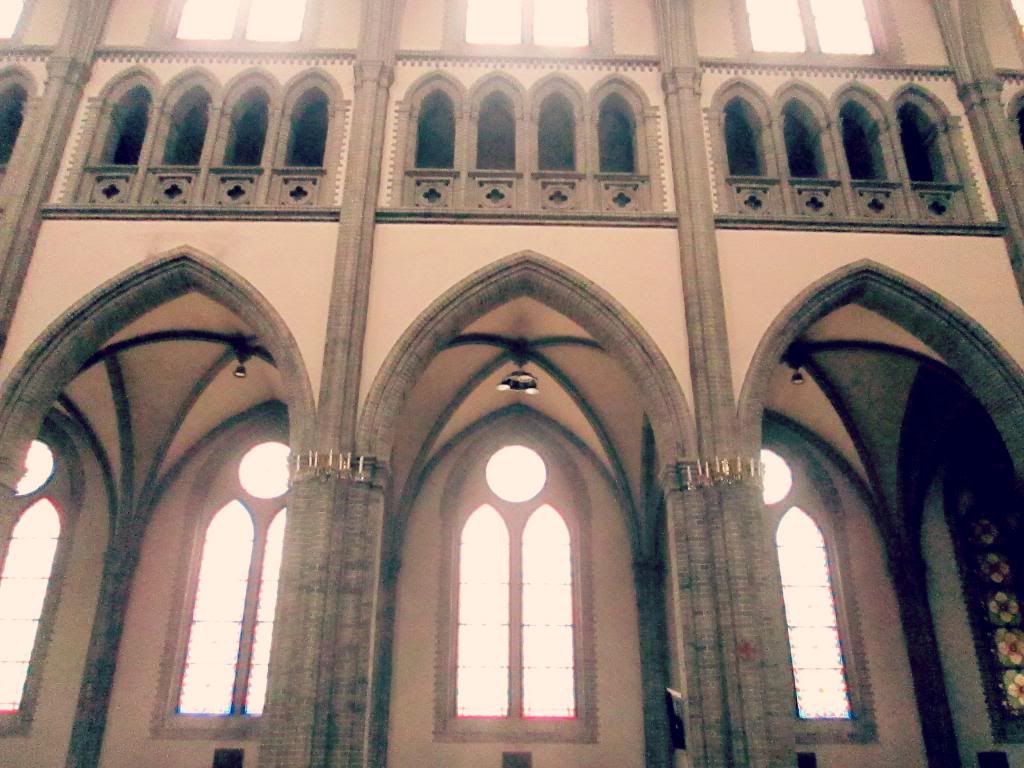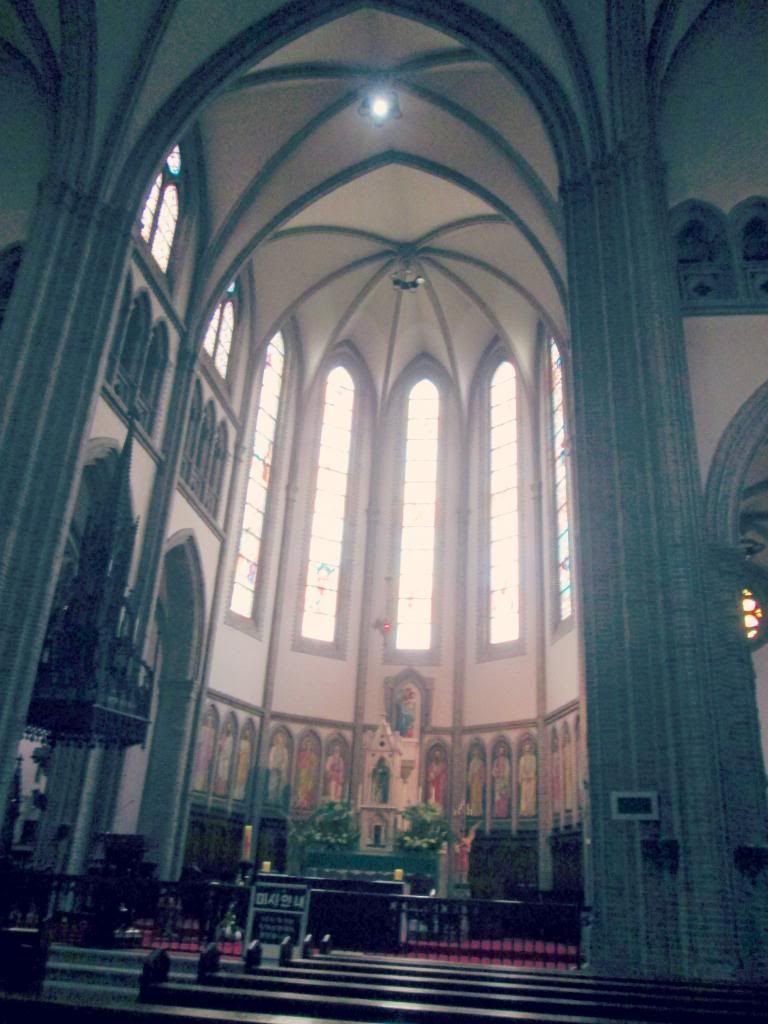 I stayed for almost an hour - marveling at a church built by faith and tradition. It is one of the charms and the strengths of the Church - universality. It's like coming home, whichever part of the world you're in.
Myeongdong Cathedral is the first brick church built in Gothic style in Korea. Because of its architectural design, the interior of the church is gloomy (much like the weather outside that day), thus highlighting the main altar with its stained-glass windows.

I thanked the Lord for all the wonders that He has done in my life. There I was, at a place I have always dreamed myself to be, overwhelmed with so much gratitude. I don't have much in life, in general, but His goodness has brought me to these amazing places. Before I left Manila, I went to Confession and prayed for God's guidance. I remember asking the Lord to "travel with me and be my tour guide". And he did answer my prayer. From Day 1 to the 10th, I felt him guiding my every step - leading me to the right direction, using people to make things easier for me, keeping me safe when I'd go out solo, making sure that I had everything I needed.The Lord's generosity overflows, indeed.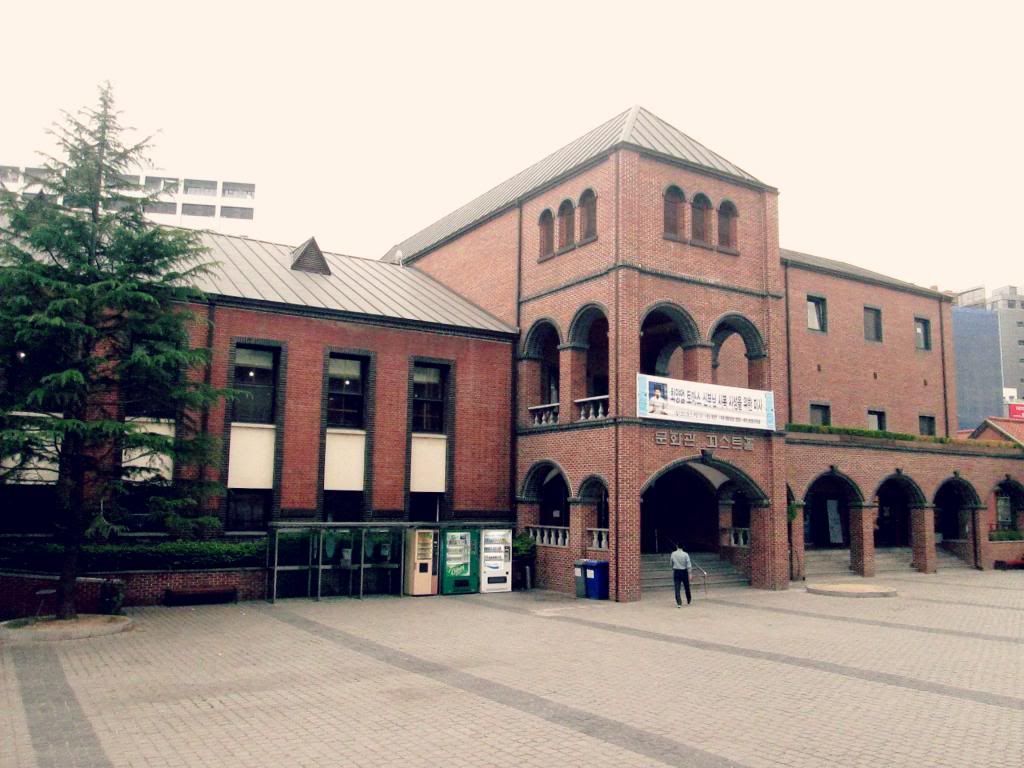 I didn't have a chance to further explore the area, I had little time and it was raining. So, after praying the Rosary (next time, I'd want to learn how to pray the Rosary in Korean) and taking a few photos, I had to leave. By the way, there is a shop on the right side of the church where you can buy some souvenirs - I got a few magnetic bookmarks and a Rosary ring. :)
I had to go back to my guesthouse in Hongdae and get my stuff before heading over to Jamwon-do. Day 3 would be all about spiritual nourishment in the morning and another round of theme park magic in the afternoon.
Stay tuned for that.
Check out Myeongdong Catholic Cathedral's website,
here
.
connect with me here