Happy Father's Day, Papang!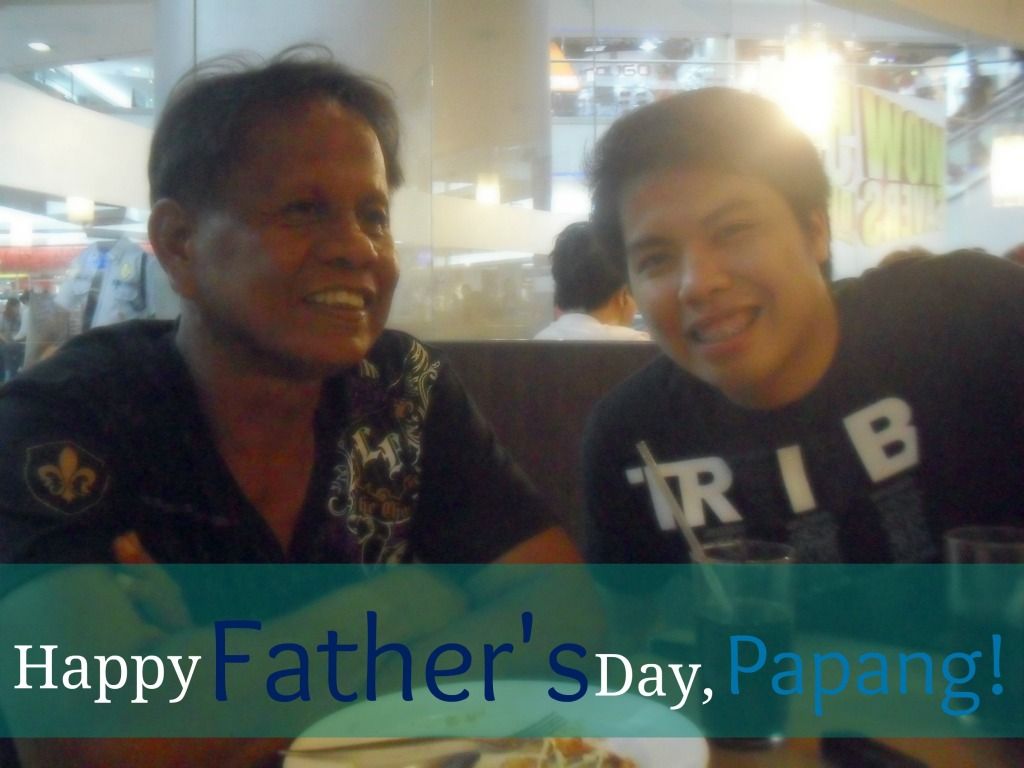 "A father is neither an anchor to hold us back,
nor a sail to take us there,
but a guiding light whose love shows us the way."
My father used to be a soldier but he retired early so he could be with us. His work then took him to different assignments and placed him on several operations, dangerous most of the time, and we could only see him for two to three days every six months. I was eight when he left the service. Since then, and for the many years before I went to college, he has been a hands-on father. Unfortunately, I have not spent as much time with him as I used to and I just miss being with Papang.

I miss seeing him in a cheerful mood, dancing around while cooking. I miss the weekend lunches where he would prepare grilled meat, rice and vegetables and eat them the way soldiers do - place everything in a banana leaf and everyone in the family eats at the same time. I miss those ordinary days when he would make doughnuts (the most delicious ever!) out of the blue. I miss watching a movie with him, I remember when we were young, he would explain to us the story of the film especially the bible stories shown during Christmas or Holy Week. I miss the way he would wake me up early in the morning to study for my exams - he would pull my legs so I wouldn't have a choice but to get up. I miss how he would secretly give me money and ask me to buy chocolates for my mother on their wedding anniversary. I miss listening to him talking to his friends and telling them how proud he is of us, his children, for the things we have achieved and he would explain where we got that medal displayed on the wall or the trophy placed on top of the television.

The two pictures here are some of the recent ones I have with Papang. These were taken early this year. I and my brother, Erick, had dinner with him twice during his short stay here in Manila. And we had so much fun updating each other and reminiscing our funny antics as kids. It was nice listening to my father's laughter.
Papang is not getting any younger, though. And it is my hope, dream and prayer that someday soon, he doesn't have to work too hard for my younger siblings any longer. I guess, he deserves to relax and reap the fruits of his labor. My father is not perfect, he has his shortcomings too, but that doesn't make me love him less.
You just can't imagine how happy I was when he told me after our dinner last January how happy he was that we grew up to be good people and good children. I guess any child would feel so happy hearing this from his/her father. And I can only hope to do more for my father (for my parents) not only in exchange for his sacrifices but for the simple reason that I love him dearly.
To Papang, Happy Father's Day!!! :) I love you always and forever. And to your Dads, my dear friends, this day is for them because they simply are great people in their very own unique ways.