on my 25th
i woke up in the morning of april 1st a year older. in my twenty-five years of existence, there is that one thing i am most certain about - i am loved. the path to knowing and believing this hasn't been all that easy. there were days when i felt like no one really cares, but each and every time i am resolved to believing the opposite, i am gently (and sometimes, intensely) reminded that i am valued and cared for beyond my imagination. and accepting and believing this with my whole heart has made life even more fruitful than it already is.
i am loved.
this is something i'd like to tell myself over and over. sometimes, when people around me fail to meet my expectations, it becomes a lot easier to magnify their shortcomings than to actually remember the sacrifices and wonderful things they have done for me. as i am guilty of this, i've been recently reminded (on my birthday itself) that people will always have different ways of showing affection. and just because they are not the type who say "i love you" out loud or the ones who shower me with gifts do not mean that they love me less.
on my 25th birthday, God showed me that i am loved in more ways than one. i am loved... when people put up with my mood swings and understand my shortcomings without complaints. when they'd rather spend hours in the kitchen to prepare delectable meals than to watch tv and relax. when they choose to spend time with me rather than be somewhere else. when they take a bit of their time to actually let me know that they remember the day i was born. when they include me in their prayers. all these and all other things i am not even aware of.
on my 25th year here on earth, i must say that people always make a difference. that as years go by, we do not really linger on the things we have possessed. we look back and always re-live the wonderful moments that have shaped us and the people who have made us feel how it is like to be someone's daughter, someone's sister, someone's friend.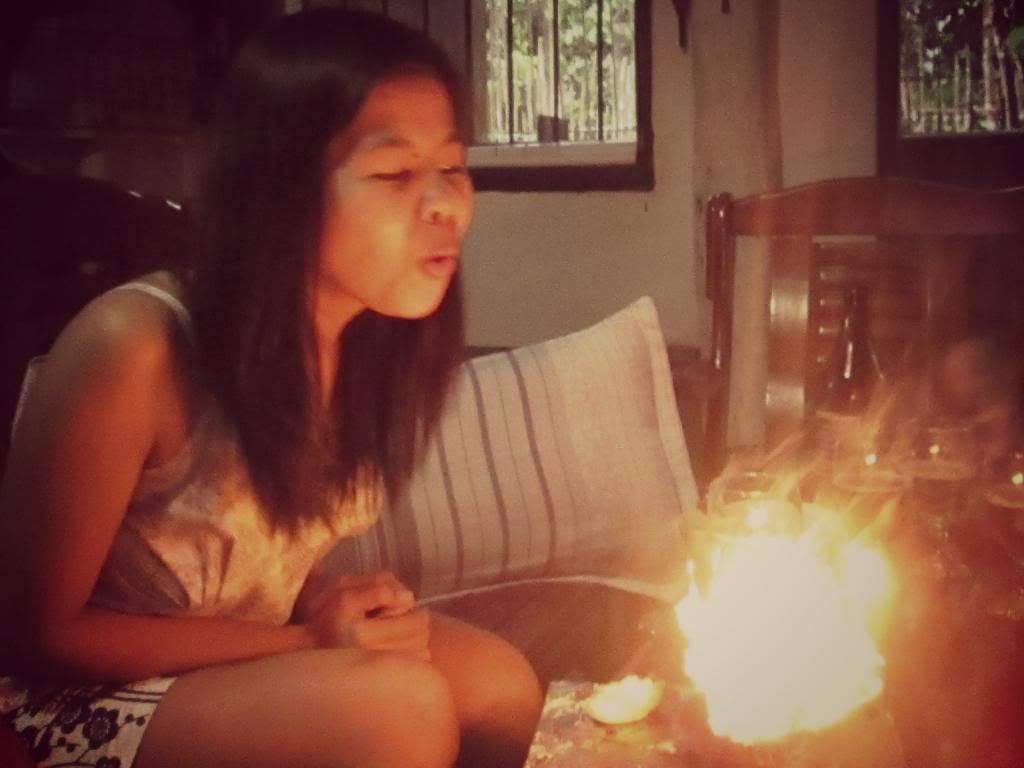 yes, that ball of fire is actually my cake with 25 lit candles! crazy! haha
this year, i spent my birthday with my family (the last one with them was seven years ago). indeed, there is no place like home. i am beyond grateful for the family that i have, for it is from them that i draw strength and inspiration from. it is from them that i first felt how it is to be loved.
to everyone who has greeted me on my birthday, thank you so much! i am such a lucky girl to have a loving family and genuine friends.
and i thank the Lord for He willed me to live and experience how wonderful this life can be. i believe that there is so much to look forward to and i hope and pray that i'd be able to do great things to glorify His name and be able to love others in the same way that He loves me.
love,