My Destination Wish List: Getting There with Air Asia Zest!
If I would have to limit my favorite places to three, it would be where the sea kisses the shore, where my heart finds its joy, and where mornings are simply irresistible.
I am not a frequent flyer, but I do wish that some day soon, I'd be able to visit more places here in the country and abroad. Below are my top three destinations in no particular order. And if you continue reading, you will find out how reaching these destinations can be convenient and affordable with the combined forces of Air Aisa and Zest Air!

Boracay. Where the sea kisses the shore. My first trip to this lovely island was just last year. I was there for two nights and three days with my friend just in time to unwind after a very stressful semester in grad school. The trip was in late September, still within the typhoon season, but I was so fortunate that the weather was fine then. It was a time of the year when windbreakers were placed between the establishments and the shore but the sight behind them were indeed breathtaking. A lot of people say that Boracay is overrated, but for me, it is still a beautiful place to relax and have fun. And I would gladly go back there with friends and family.
(Photos above are mine; taken using my blackberry.)

Davao. Next on my list is my hometown. I spent my growing up years in "The Land of Promise". It's definitely my home. I was nurtured in this diverse and unique piece of Mindanao. I started dreaming there and found really good friends I will treasure forever. If there's one place in the world I would never get tired of going back to, it's there. Once in a while, I'd love to go back to reconnect with my roots and spend quality time with my family. Moreover, going home is always a pleasant adventure. Davao is home to the Monkey-Eating Eagle, Mt. Apo, Durian, Pomelo, pristine beaches, vast hectares of banana fields, honest taxi drivers and so much more.

(Photos are mine; taken using my Samsung digital camera.)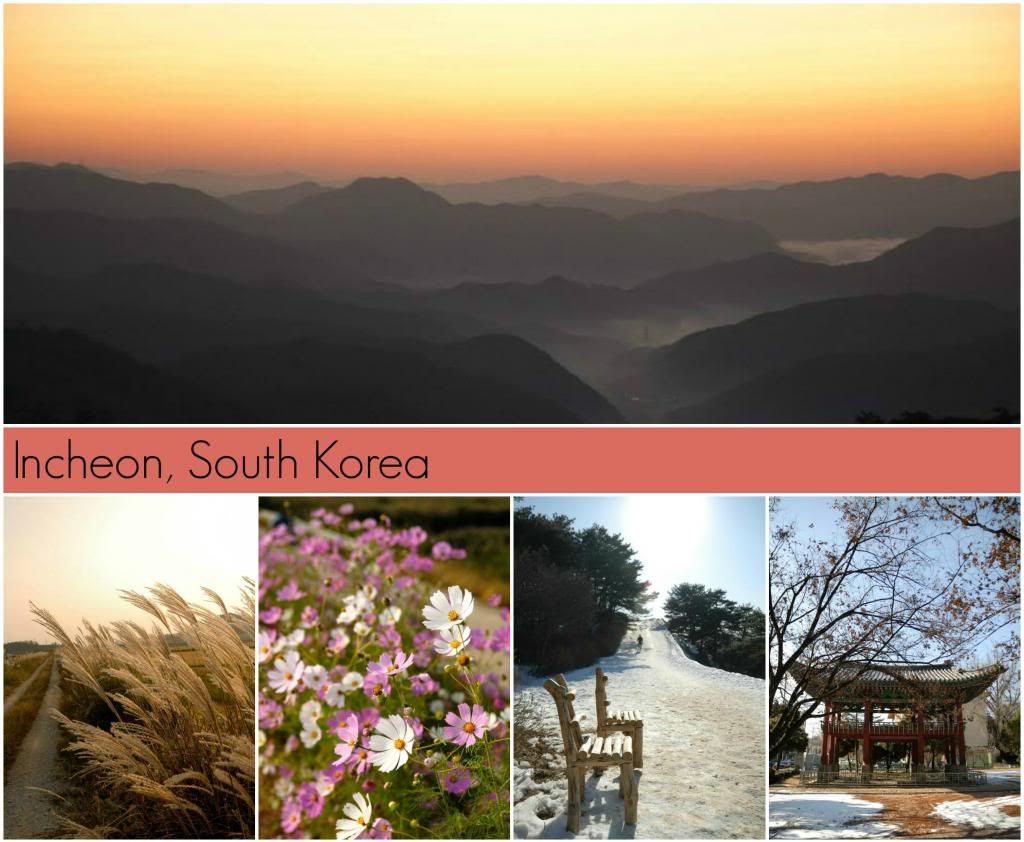 Incheon, South Korea. This tops my list of international destinations. Incheon is the primary gateway into this lovely country. It is both a nation of modern innovations and wonderful traditions. The country has a lot of good sights to visit and delicious food to enjoy. Aside from visiting the many gorgeous places in The Land of the Morning Calm, what makes Korea so dear to me are the people I would get to see again if I ever visit. I started teaching English to Koreans in 2007 and most of my students were children. I remember promising one of them that I'd visit her after 5 years. Well, it's more than 5 years and I guess it's about time I fulfill that promise.
(The photos above were taken by my good friend,
Jaden
. He is Korean and he loves going to many places and snapping photos on weekends. Aside from letting me borrow these wonderful pictures, he's also going to be my tour guide in Korea!)
So, here's the big news for me and you. Getting to these places are now even more convenient and affordable with Air Asia Zest!
Just last month, AirAsia Philippines announced that Air Asia flights to various local and international destinations are now available from Manila (Terminal 4). Yes, no need to go to Clark Airport. Moreover, Air Asia has joined forces with Zest Air to serve the Filipino better, strengthening the airline's advantage in offering affordable flights to your chosen destinations.
Air Asia Zest flies to the following local key cities: Cebu, Davao, Kalibo (Boracay), Puerto Princesa, Tagbilaran, Cagayan De Oro; and international locations: Kuala Lumpur, Kota Kinabalu, Shanghai, Incheon.
With the holidays coming up travel in the Philippines and travel in Asia with Air Asia!
Click the icon above to visit Air Asia Zest' website and book your flights now!
Air Asia Zest, The Right Way to Fly



keep in touch!