Korea Chronicles | Bongeunsa Temple
/ Day 4 /
My fourth day in Seoul started with a hearty Korean brunch - rice, curry, pork cutlet and various side dishes. I had a good rest the night before but the weather wasn't that great. It had been raining for two days
straight and I didn't really have a fixed itinerary in mind. Had the weather been better, palaces in Seoul and Insadong would have topped the list. A friend suggested that I stay indoors, visit COEX and Samsung D'Light. He told me to go to Samseong Station, near Gangnam -- with my Seoul Metro map, going there was a breeze! When I got to Samseong Station, I found out that Bongeunsa Temple - where you could see a giant Buddha - was quite near. I kept that in mind as I mindlessly walked around COEX.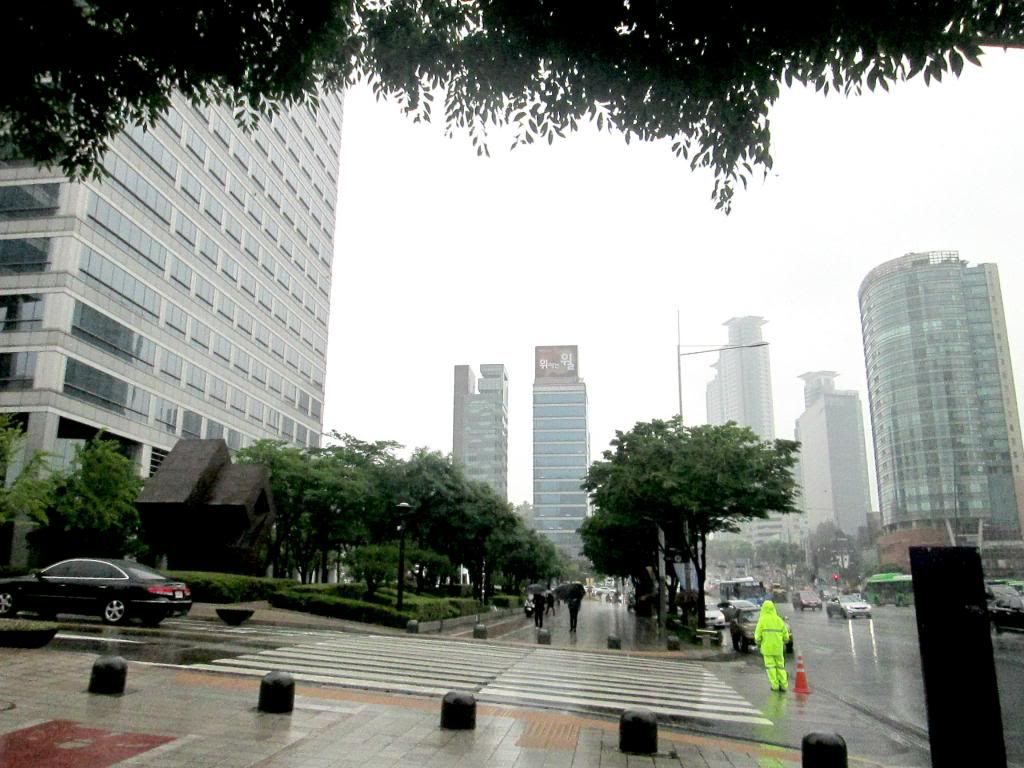 There was nothing exciting to see inside COEX. There had been a lot of renovations going on, too. So, I decided to go to Bongeunsa. According to my web search, I had to walk for 600 meters from COEX then turn left. I'd be able to see the temple from there, and would have to cross the street. I had no idea how far 600 meters was but common sense helped a lot. :)

By the way, the rain showed no signs of stopping. It was hard to take photos while holding an umbrella at the same time keeping yourself warm and dry. But, I didn't really have a right to complain for there was this small incident that day that made me realize how lucky I was. As I was walking to Bongeunsa, I saw this guy, a foreigner (another Asian, dressed decently) who looked so lost. I could see that he was almost limping - must have walked quite a mile. I looked at him from a distance as he stopped some passersby, maybe asking for directions (I wasn't really sure). But everyone he approached just brushed him off. They would stop for a couple of seconds but would immediately walk away. I already walked passed him but I would turn back to see if he had any help already. I didn't even know if I could help him out, knowing that I was as "lost" as he was. When I turned back for the second or third time, he was already gone. I wasn't entirely sure if he got the help he needed.

Some have it better, some have it worst -- the thought that kept playing in my head while walking. I had so much to be thankful for, being in a foreign land but surrounded with very generous friends (and even strangers) who were more than willing to assist me every time I felt like I was in the middle of nowhere. I had mixed emotions - happy and sad, teary-eyed from both feelings of gratefulness and frustration. It's funny how a 600-meter walk could make me realize and feel so many things.

Finally, I saw the temple!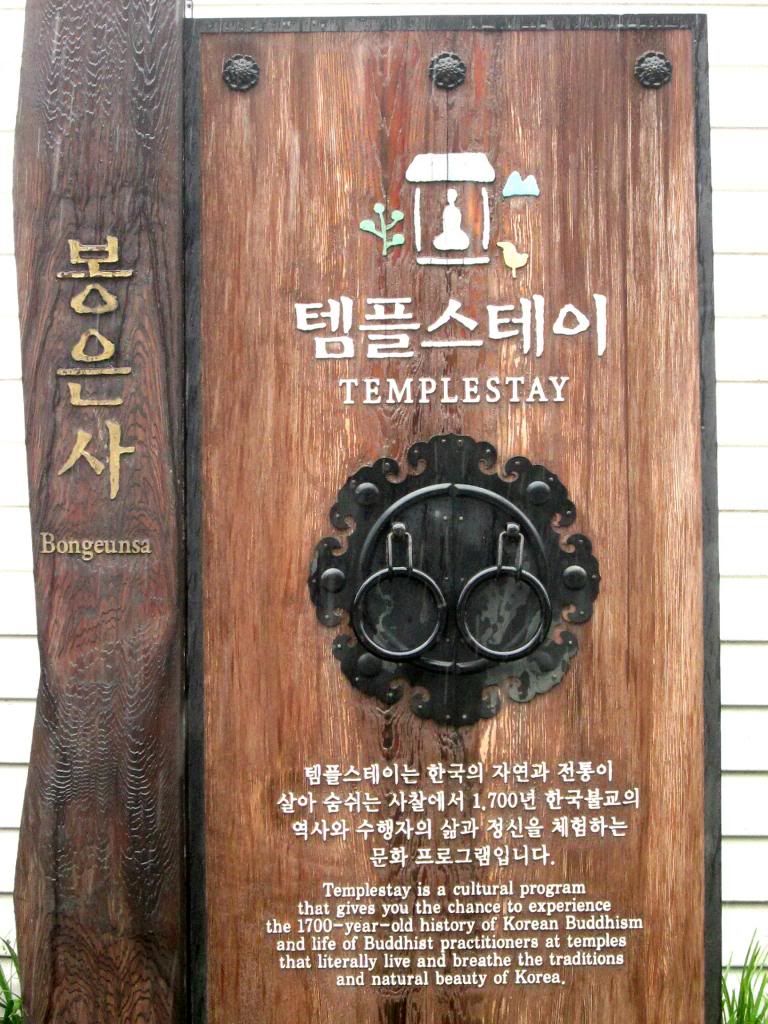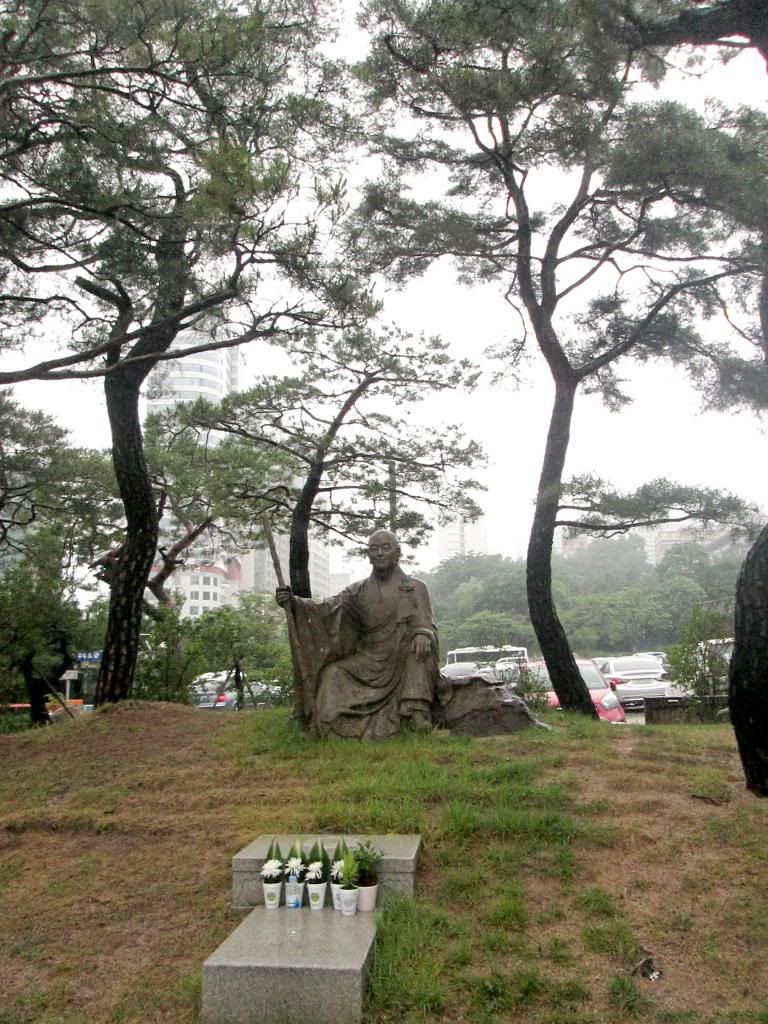 I immediately went to the information booth and asked the lady there if it was OK to see the temple by myself. "Don't you like to have a tour guide?", she asked. Before I could answer, she said "If you don't like, I don't care, but it would be nice if you'd have one", she was smiling. "What time is the guided tour?", I asked. "Now". Wow, I thought I could only avail it with a group of other tourists. It was so nice of them to be so accommodating. Then she asked me, "Which country are you from?" "Philippines!" (I always say it with great pride haha). Then, the older lady behind her volunteered to tour me around. Then the younger lady got her phone and asked me if she could take a photo of me and my tour guide. We were all smiles.
So, we commenced the tour with my guide showing me the four guardian guards protecting the Gate of Truth - J
inyeomun
.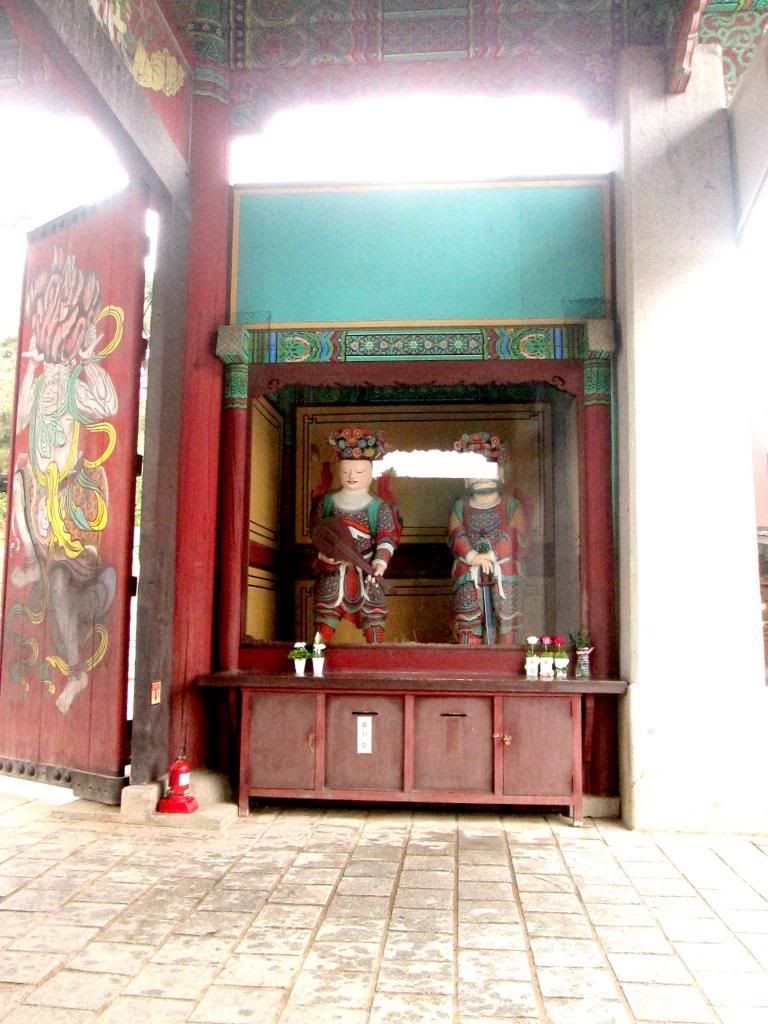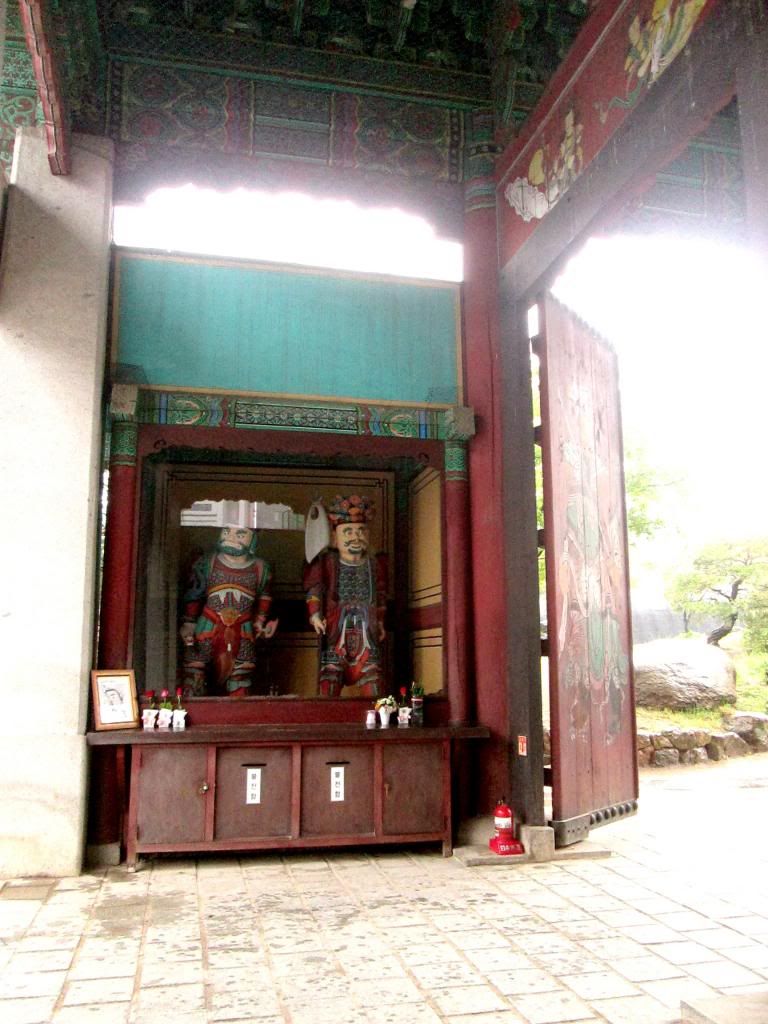 Then we went inside the main temple, but we had to leave our shoes outside. I asked her if I could take photos, and she said "OK". She said, a lot of Buddhists go here to pray, and after praying, you have to bow three times. And that there are 3333 big and small Buddha figures in this temple. After taking a few photos, I paused for a while and prayed for the safety and well-being of all foreigners in South Korea - thinking about the guy I saw on the way to the temple. Then I bowed three times. My tour guide asked, "Are you Buddhist?", "No", I answered with a smile.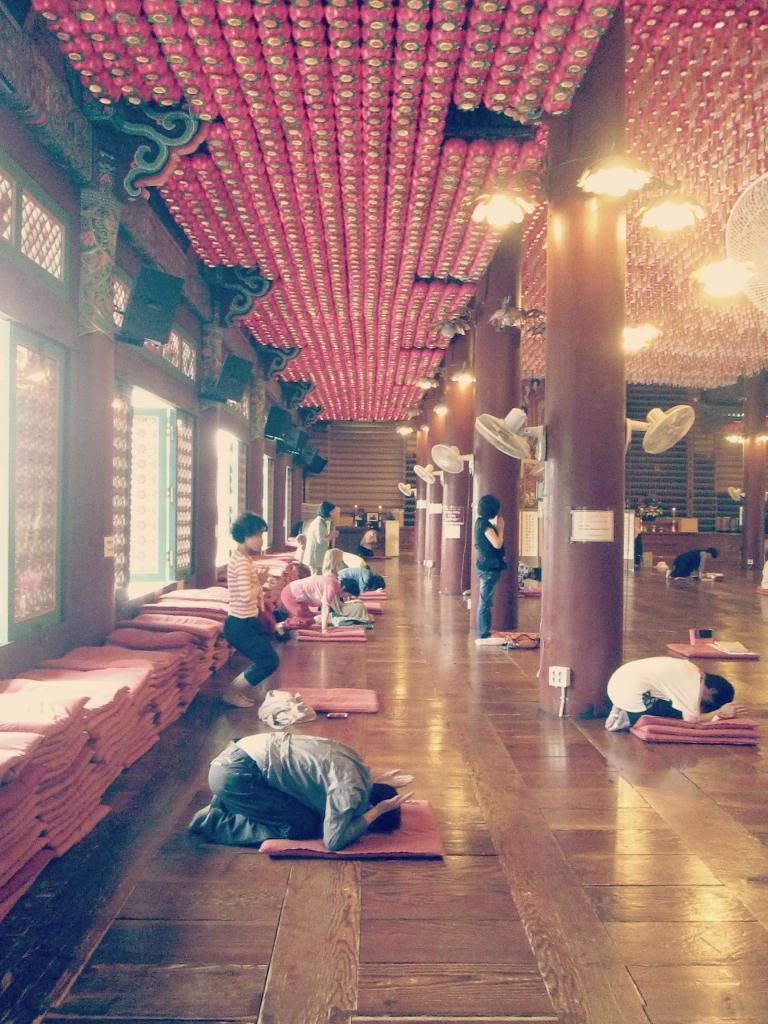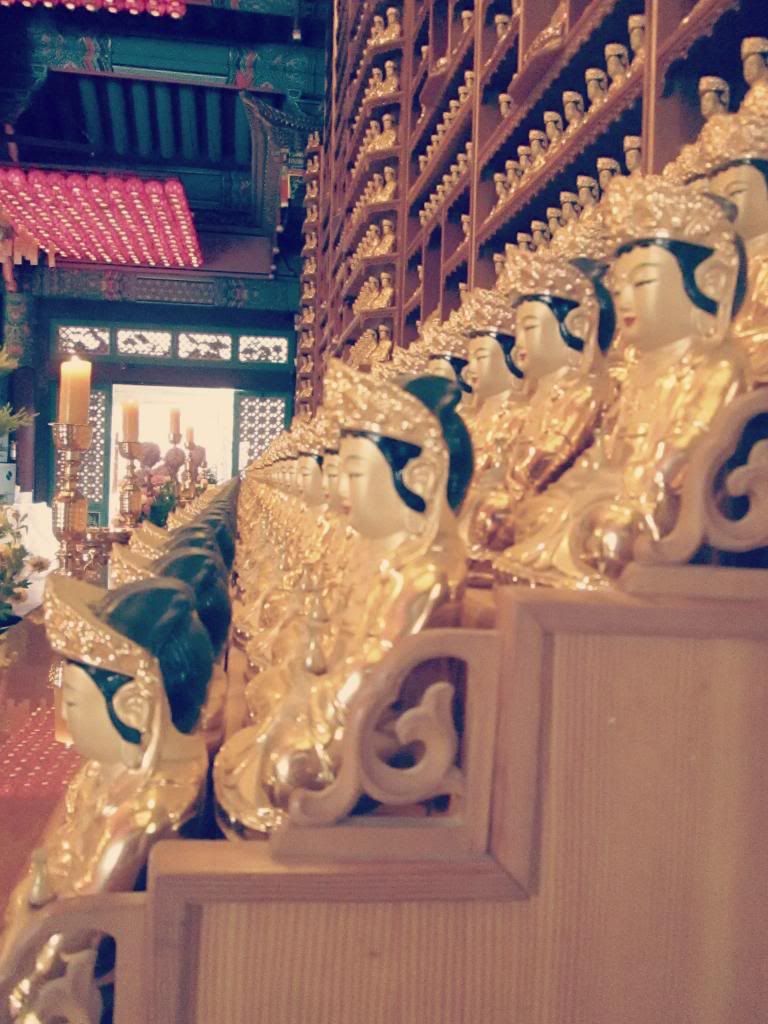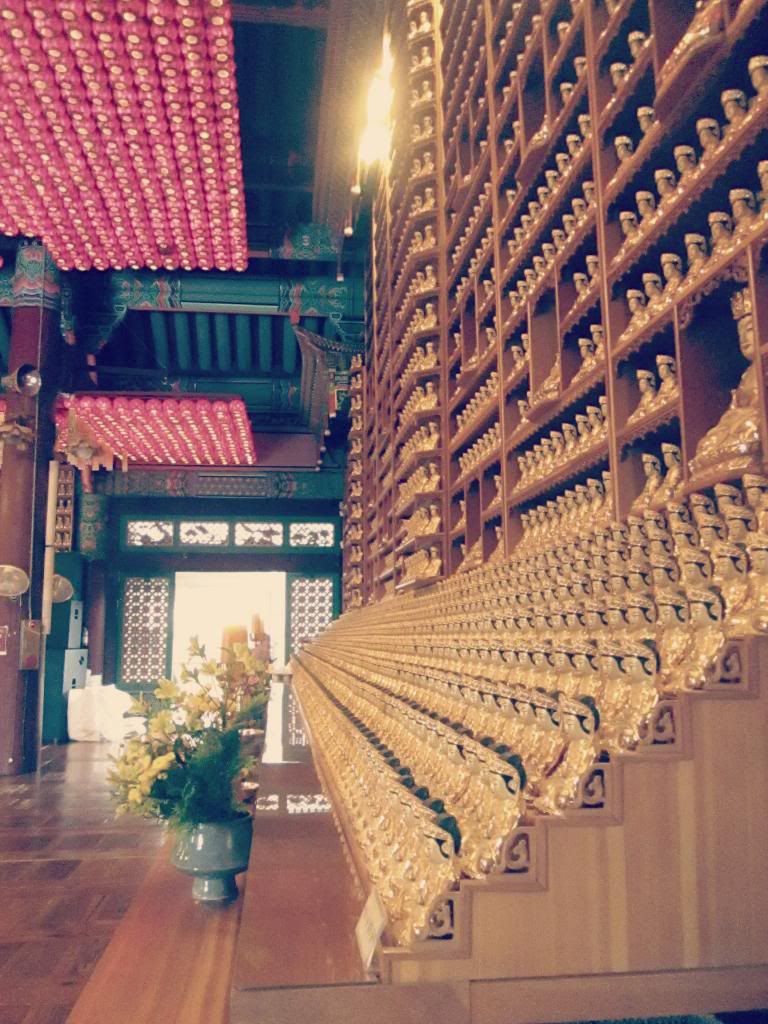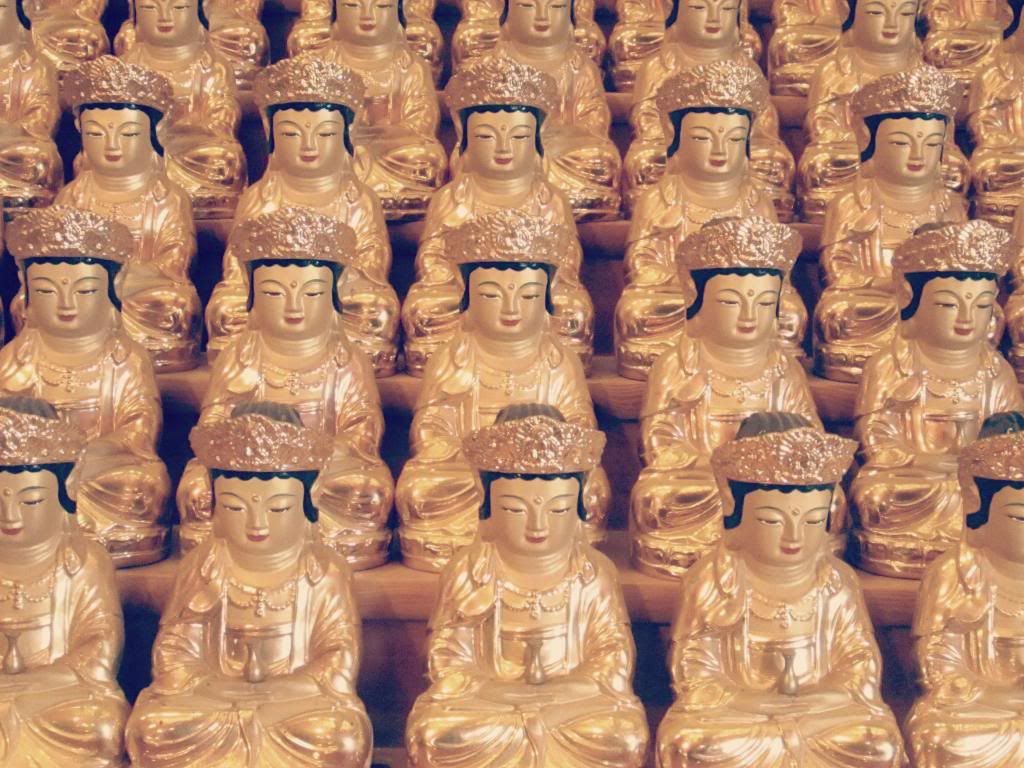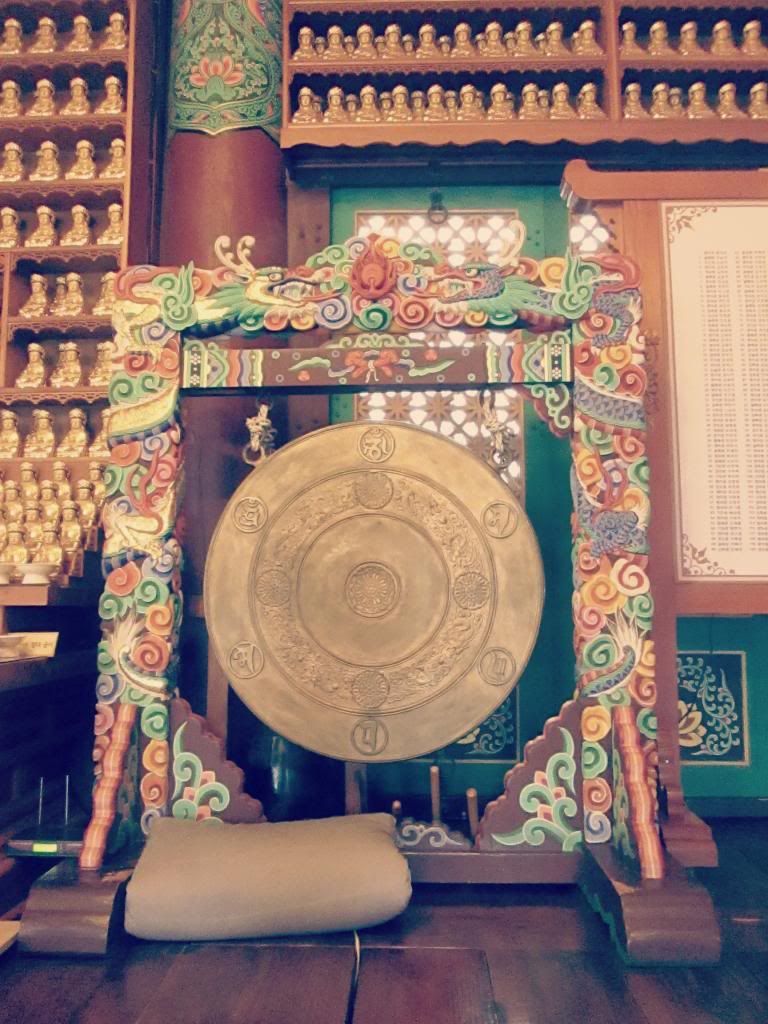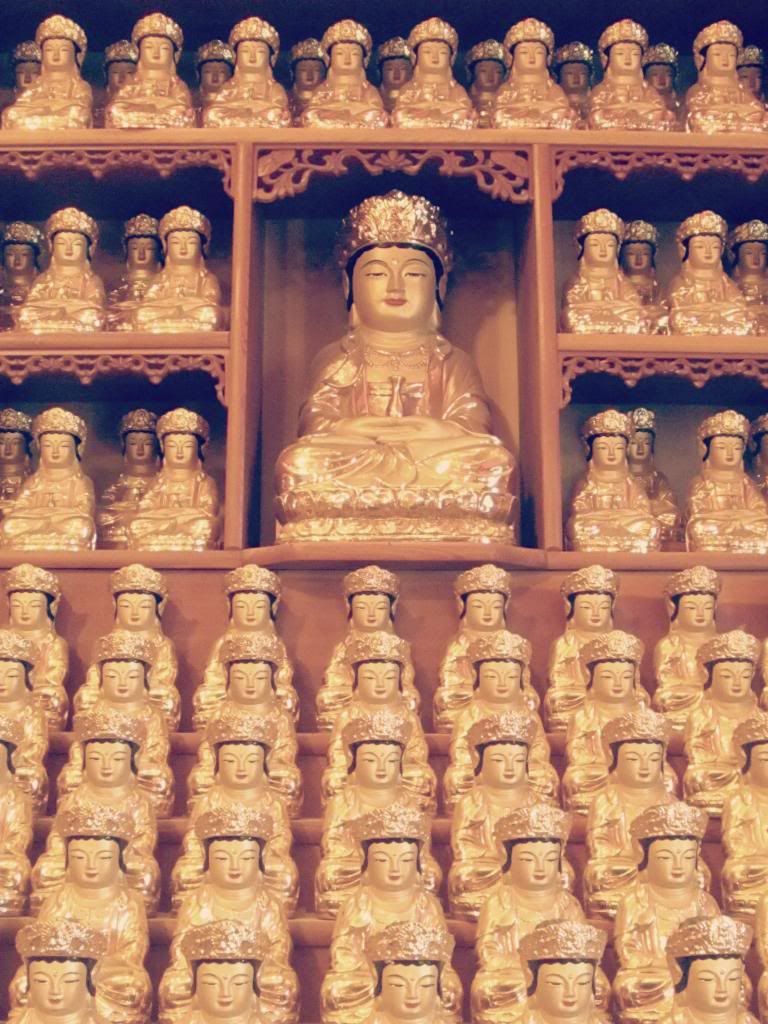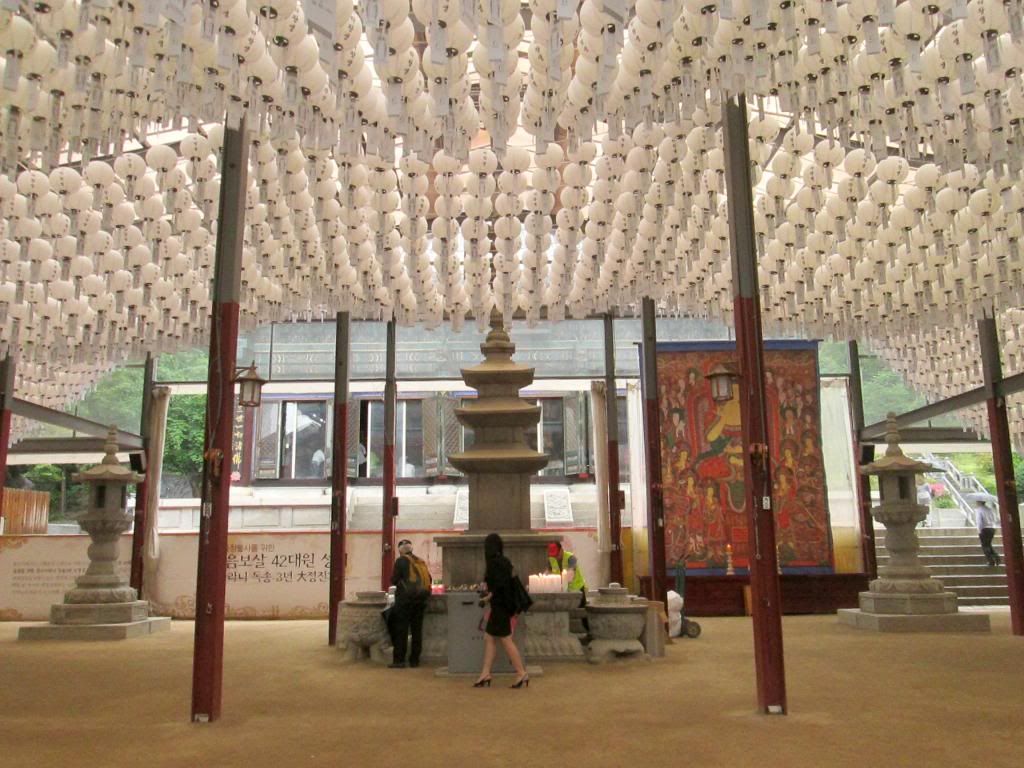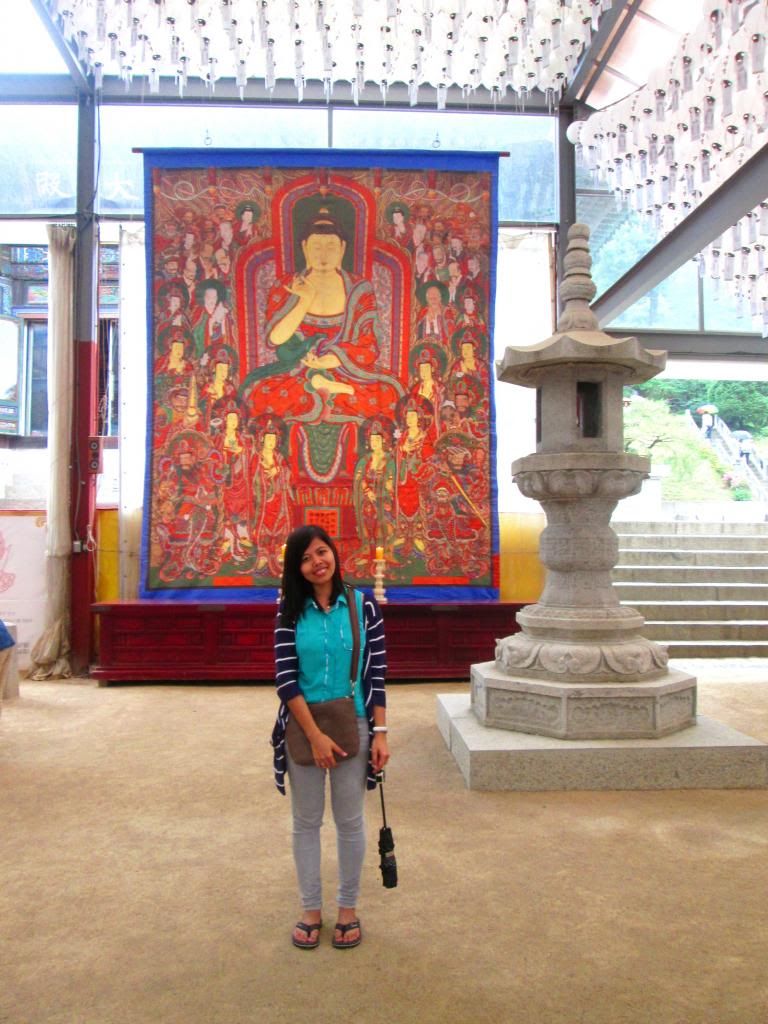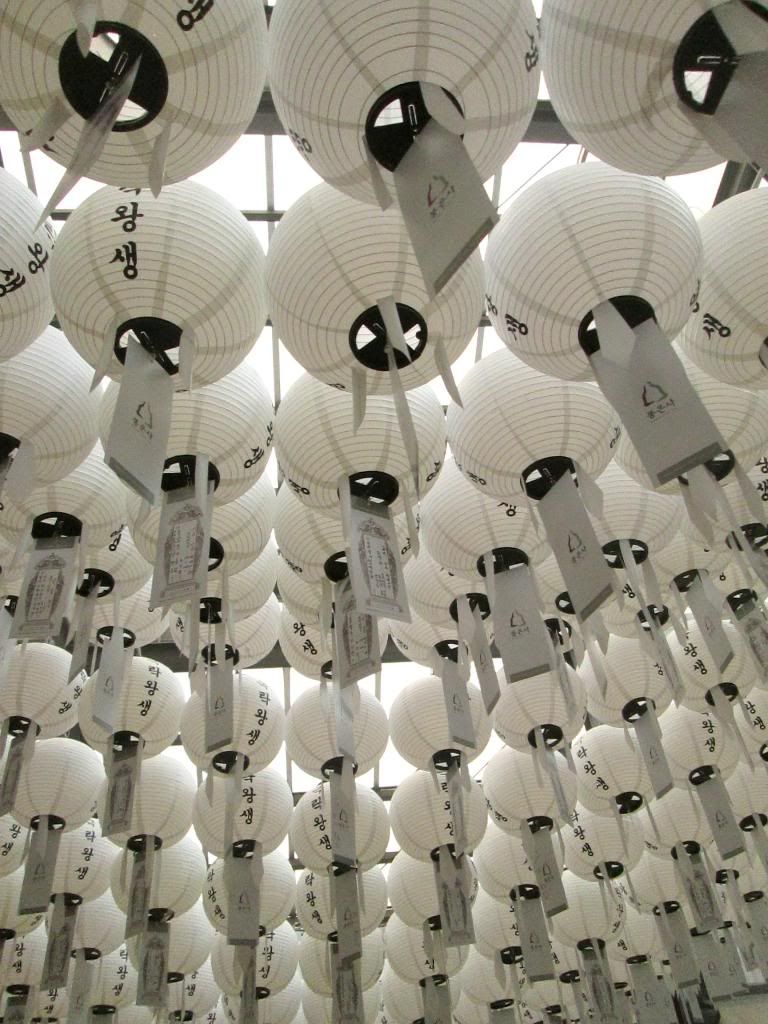 There were white lanterns outside the temples that day and they were said to ward off feelings of anger, depression, sadness and so on. True enough, I had nothing but positive feelings and thoughts that moment as I recognize the fact that I cannot control things and that the most I can do is to lift all my worries up to a Being higher than me. I was able to see smaller temples, there were a few situated on a hill and from there you'd see the vast difference between the traditional and the modern, the old and the new... chaos and serenity. Bongeunsa rests in the middle of a busy district and it is a relief to find a place to be refreshed and be calm in the midst of a fast-paced metropolis.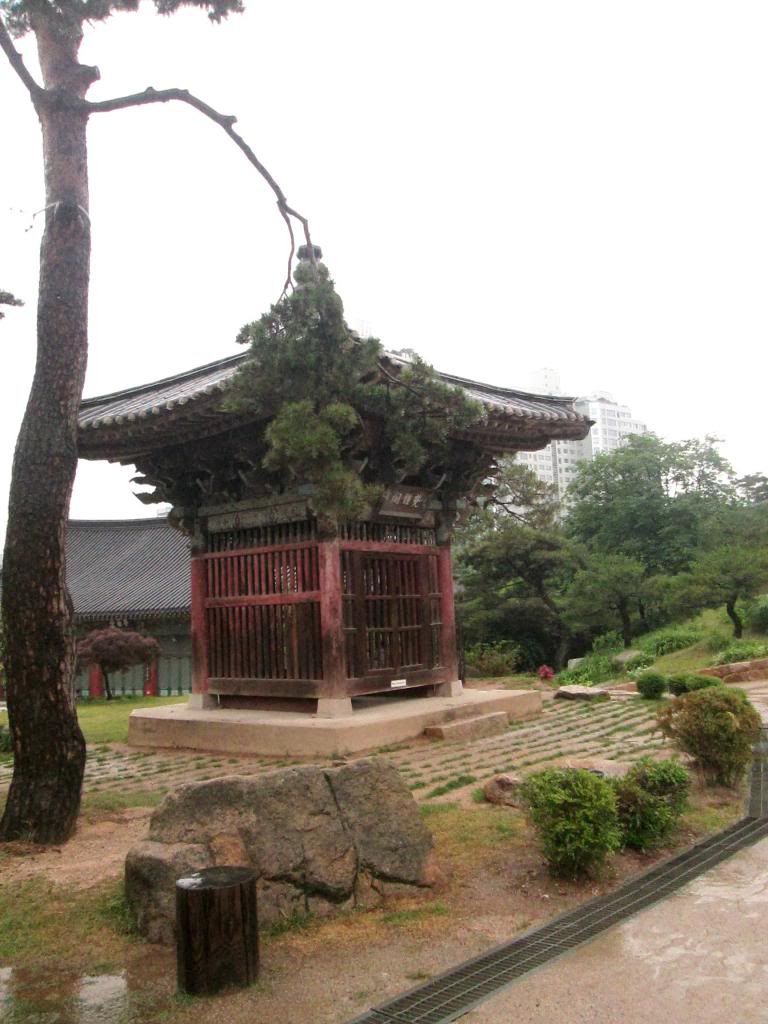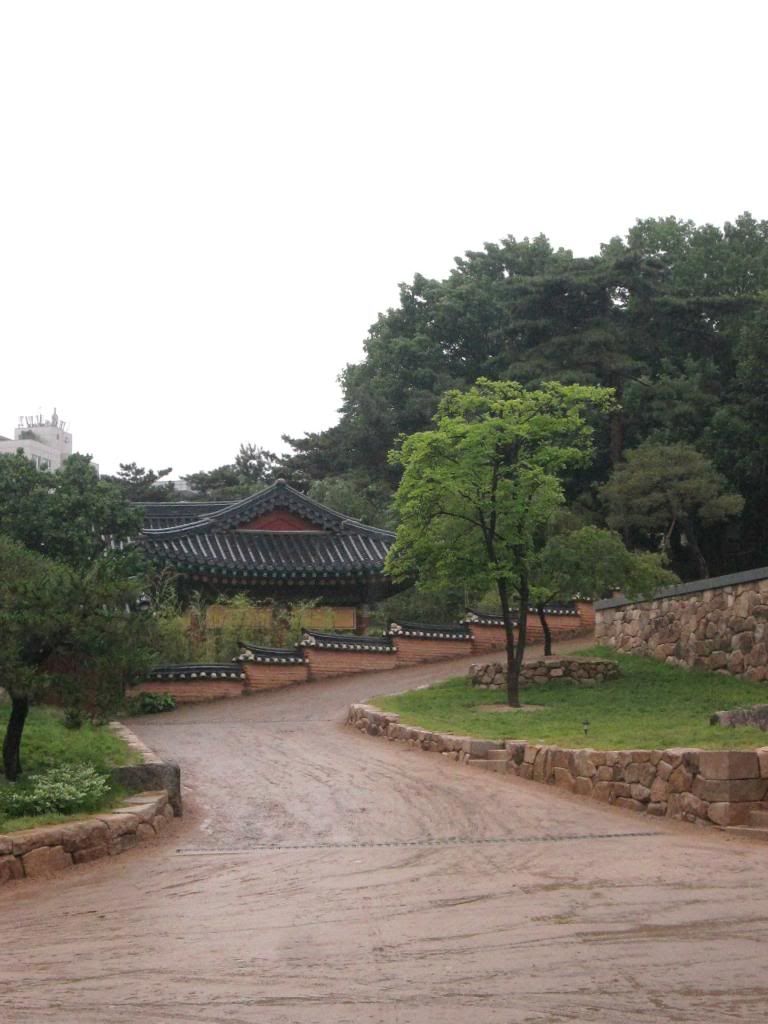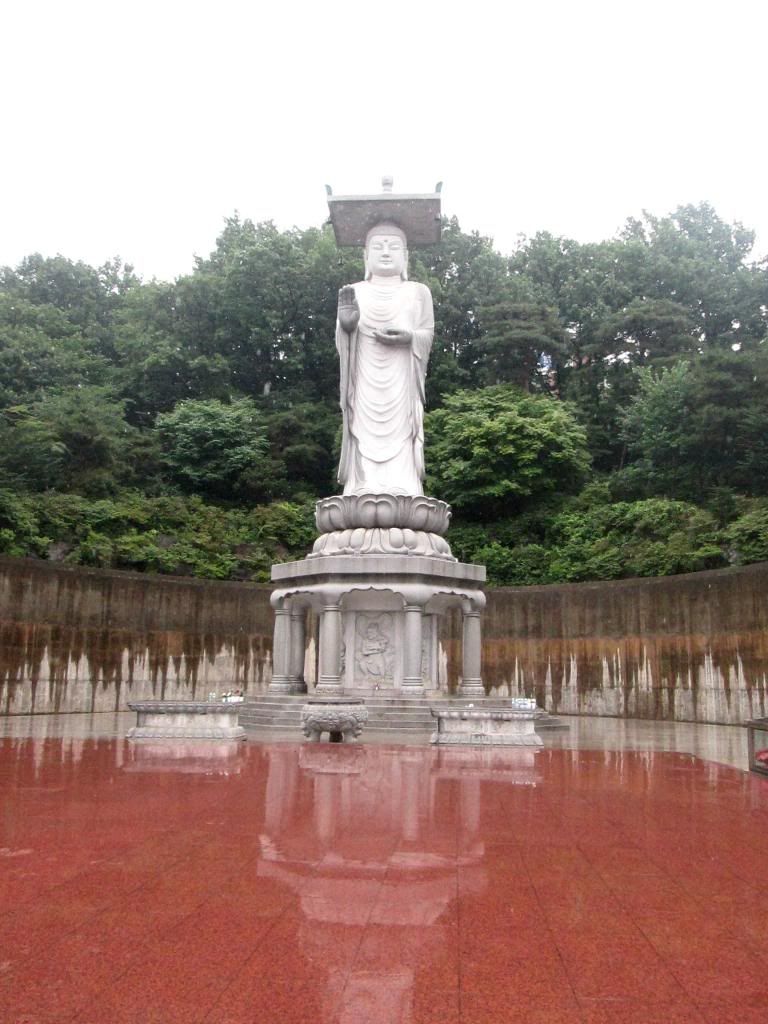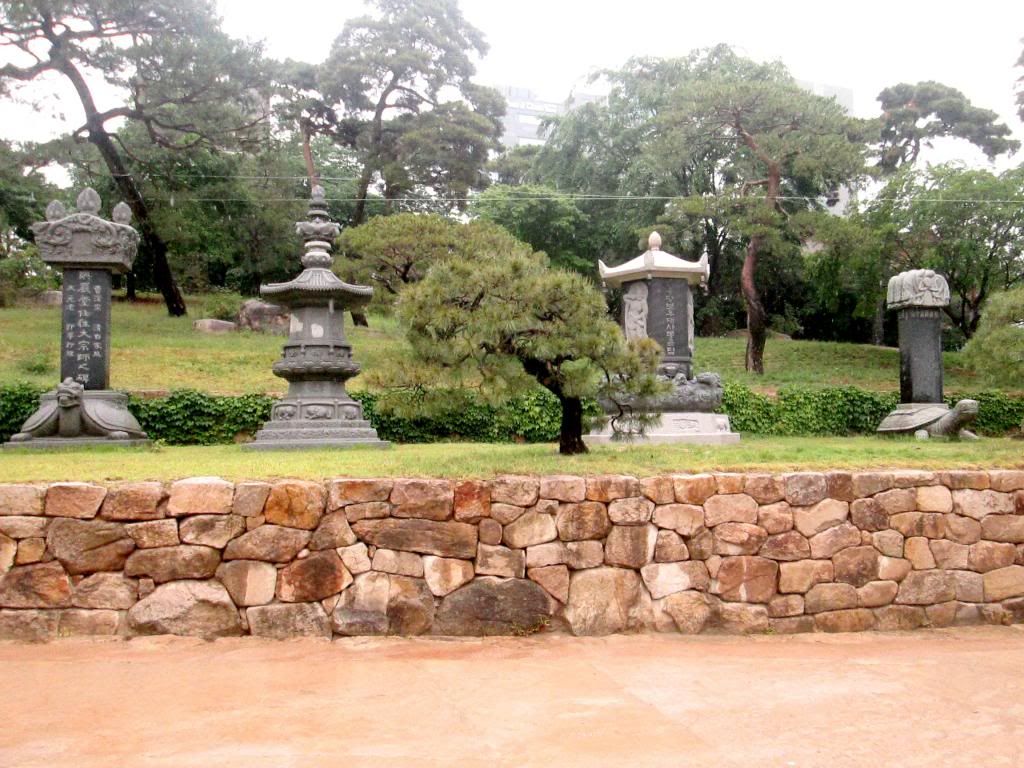 I have always loved spontaneous trips - going out to an unfamiliar city without a clear destination in mind, because in most cases, you get to discover a new place, a gem. It is exciting, fulfilling and very much enlightening. It's nice to travel alone once in a while because then, you let the goodness of other people direct your path. It is also great to immerse oneself in other people's culture and beliefs, realizing that the similarities we each share - kindness, hope for a good future, inner peace, etc. - are far more significant than the differences we tend to highlight most of the time.
These are the friendly and very helpful volunteer tour guides in Bongeunsa Temple. They taped my tattered map, took my pictures, one of them toured me around (the grandma on the right), and told me other tourist sights near Samsung station. If you ever go to Bongeunsa, it is their request that you ask for a tour guide in the information booth. They'll be more than happy to show you around. Grandma even prayed (to Buddha) for all my wishes and prayers to come true.
To know more about Bongeunsa and how to go there, click
here
.
Read the posts I have written so far about my Korea adventure:
connect with me here