Korea Chronicles | N. Seoul Tower
/ Day 1 /
Before I could call it a day, there was one more famous tourist sight I had to see - N. Seoul Tower aka Namsan Tower. My tour guide for this stop was Jaden, who waited for me at Myeongdong Station (Exit 8) for more than an hour due to miscommunication. haha. When I was at Soongsil, I used Jane's phone to send him messages but he forgot to let me know where he'd wait exactly and so I headed for Myeongdong hoping that wi-fi connection would cooperate. It did, miraculously but only after he had already waited for a long time. :D
N. Seoul Tower is the 10th tallest tower in the world, standing at 236.7 meters. It is famous for its observatory that gives you a panoramic view of Seoul, a view even more majestic at night.
The sun sets quite late in Korea at this time of the year. I was surprised that it wasn't dark yet at 7pm. But it really worked for my advantage - it was easier to move around in the daylight. But when the sun has finally set, the view from Namsan was breathtaking.

By the time we were going up to Namsan, I was already dragging my feet because of too much exhaustion. It felt like my legs were much heavier and taking a few steps took so much effort. I was so slow and I wasn't quiet about my discomfort. Ranting while walking didn't make the trek easier, though. There were too many people that day, it was a Saturday after all. So the queue to the cable car ride was snakelike and we had to wait for almost (or even more than) thirty minutes. The good thing was, my friend and I had so much to talk and laugh about.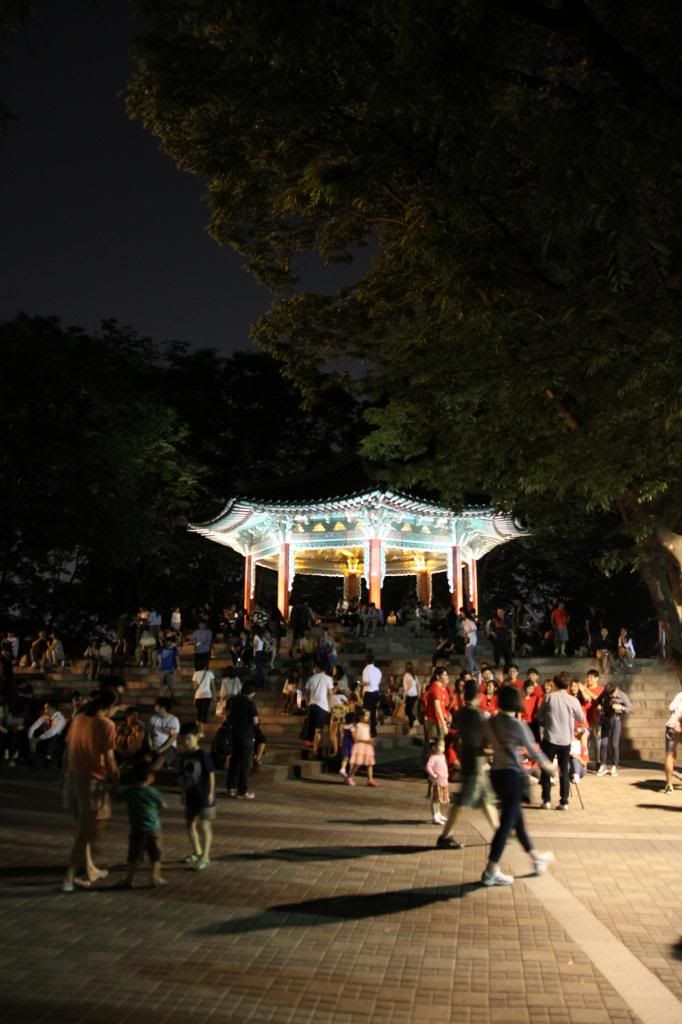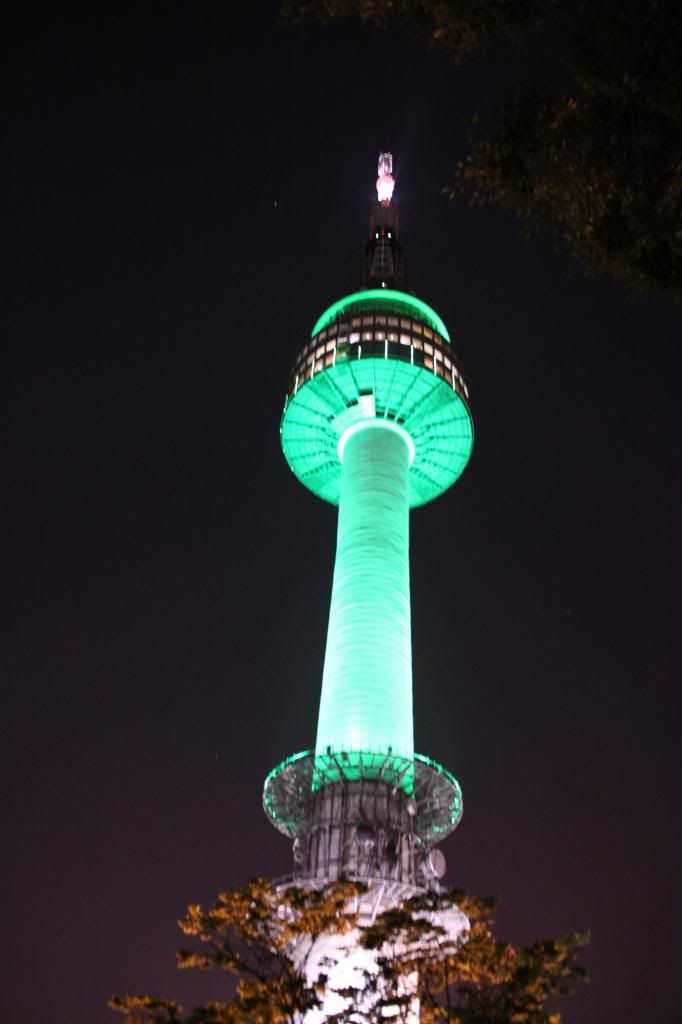 The cable car ride was fun but it was too short. And it was impossible to take a decent photo from up there because the glass wasn't exactly spotless and it was packed with people. There was nothing much to do but savor the moment - realizing that your on top of the world, and that a dream is unfolding before your very eyes.
When we got to the foot of the tower, the queue is much longer. So, we decided not to go inside anymore. I thought I'd have another chance to visit Namsan in the daylight, but I was wrong. In the days that would follow, I'd see it a number of times but from a distance. I'm grateful though that I went there at night - it is such a wonder with all the lights.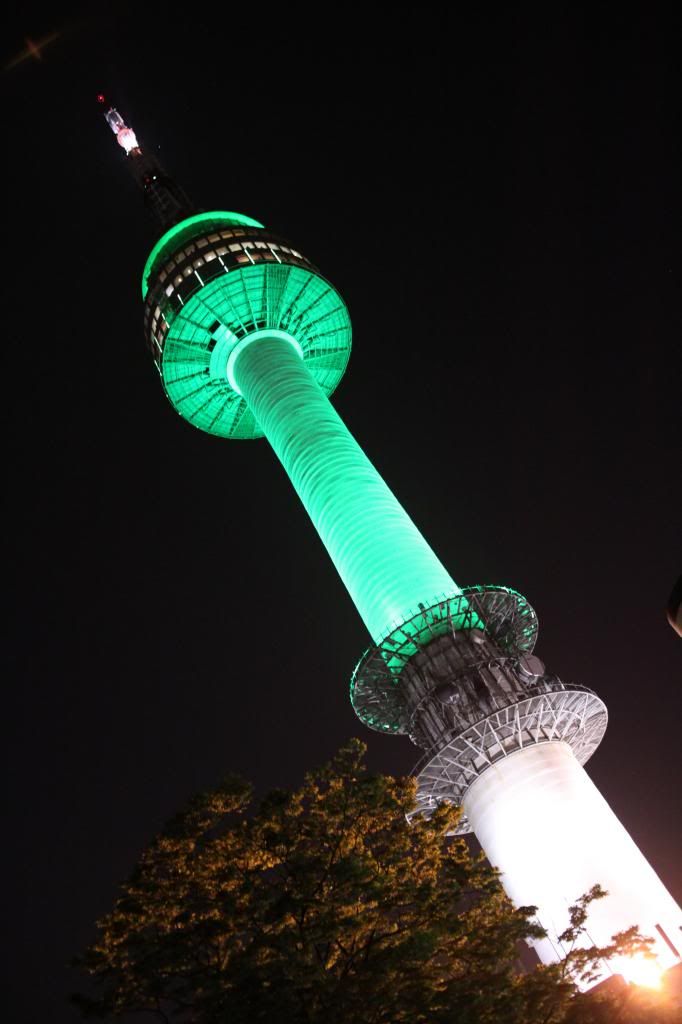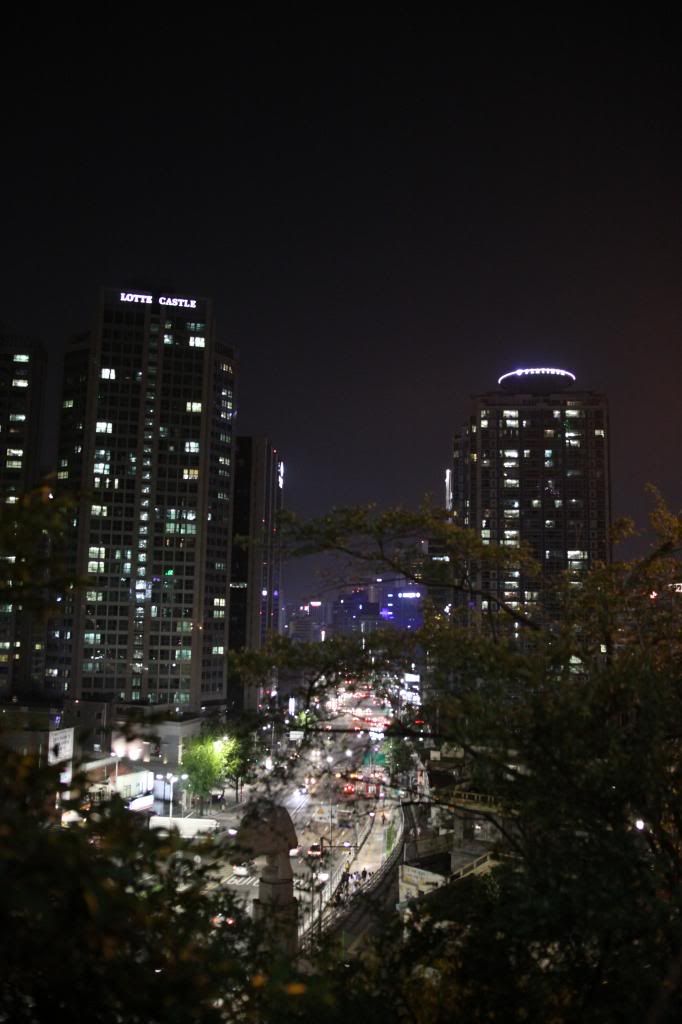 Seeing Namsan Tower was a beautiful way to end my (jam-packed) first day in Seoul. I was extremely tired from walking and lack of sleep but I really had a grand time. The aching legs and sore feet were all worth it. There was really nothing to complain about because I felt so lucky that day - there were a few mishaps like not being able to contact friends on time or being totally clueless about T-Money, but I was able to be at the places I was meant to be (and with the most fun people).
Read about the complete narrative of Day 1
here
(Arrival),
here
(Samcheongdong and Bukchon), and
here
(Soongsil University).
**
To get to Myeongdong (then to N. Seoul Tower) from Soongsil University
:
Soongsil University Station [Line 7] ----- (get off) Express Bus Terminal Station --- transfer to Line 3 ----- (get off) Chungmuro [Line 3] --- transfer to Line 4 ----- (get off) Myeongdong, Exit 8. then walk to Namsan Park.
Photos above were all taken by Jaden.
connect with me here